Silent Light
Actually, it really wasn't silent at all.  And that was a far-fetched play on words.  So really, the title is pretty silly.  Oh well.  This blog post is about lovely lights.  The Gaylord Opryland Resort puts up the most elaborate, festive lights every winter, and these twinklings made my friends and I pretty jolly.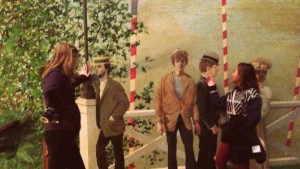 After a delicious birthday dinner at Chuy's, we gathered at the BCM to head over to the Opryland.  Around forty Vandy kids piled into cars and drove in the icy rain to the Opryland Hotel, where we entered into their annual "A Country Christmas" celebration.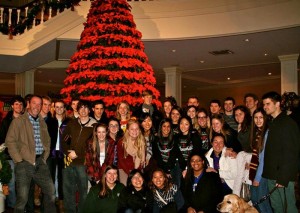 I was in awe.  What extravagance!  The first area we walked through was the Delta, where high glass ceilings, lighted wreathes, fancy pavilions, and people floating around the indoor lake made us quite giddy.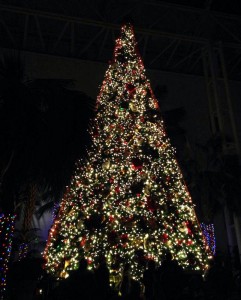 My favorite indoor section of the Hotel was probably the Garden Conservatory, with its Conservatory Skywalk.  Large bars of lights lined the ceilings, and there was even a mandolin-playing lion hanging above us.  It was absolutely gorgeous.  The Conservatory, with its little fountains and its ample floral foliage also provided the perfect playing field for a game of Sardines.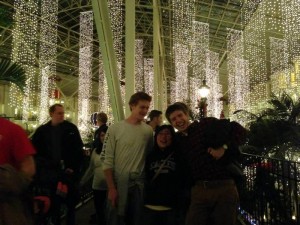 The entrance to the hotel was glowing.  There wasn't a single inch of those trees that wasn't covered in lights, causing me to question how much time it must have taken to put up and how high their energy bill was going to be.  But it was freakin' awesome.  In that photo below, you see that blue lighted tree?  That thing is almost 150-feet tall!  Do you know what star-tripping is, where you stare at one star in the sky and whirl around really fast?  We might or might not have gone light-tripping under that tree.

Afterwards, we kicked back at Jeni's where we tried a delectable array of ice cream flavors ranging from Torrone to Dark Chocolate Peppermint.  The evening couldn't have been any sweeter.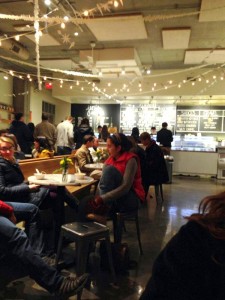 Thanks so much for Caitlyn Durning, Melissa Gramling, and June Kin for their wonderful photos!  You guys rock!