A Rocking Sunday in Nashville
At 7pm on Sunday, my House had just lost the kickball tournament to the incumbent Cup champions. I'm normally not a rah-rah-sports kind of person, but for an hour I screamed GO, MEMORIAL! as we took on North at Hawkins Field. After the final inning, though, my mind turned to other things: I had somewhere to be in one hour, and I was trying to decide whether to take the bus or call a cab.
The Nashville MTA buses were running, but they would make me at least a half an hour late. So, at 7:30, ready to hit the town, I called a cab for the first time. This event had been on my calendar for two months, and I wanted to experience every minute of it. So I took the cab, but I was still shocked that just five minutes of driving cost ten dollars (including the tip).
Precisely five minutes early, I slid into an empty seat at a table in the darkened room at 3rd & Lindsley. Sitting alone with my glass of ice water, I texted my roommate that taking a cab is like being robbed. At 8pm, two musicians from the new-to-me band Matrimony took the stage for half an hour, priming the audience for the main attraction. Matrimony is based in my almost-home city of Charlotte, NC, so that alone earned them a gold star in my book.
As Matrimony played their set, more and more people accumulated around me. I felt awkward, a rock in a stream of people who knew each other. So during a break between bands, I introduced myself to the hipster-ish crowd. They were "freelance musicians" whose friend was the drummer for Ivan & Alyosha. (Is "freelance" actually just Nashville lingo for "out of work"? Or should I take their word: skilled in an instrument or two, but unattached to a particular band?) I still couldn't freely trust the friendliness of strangers drinking whiskey, but I felt more comfortable filling a seat in their midst.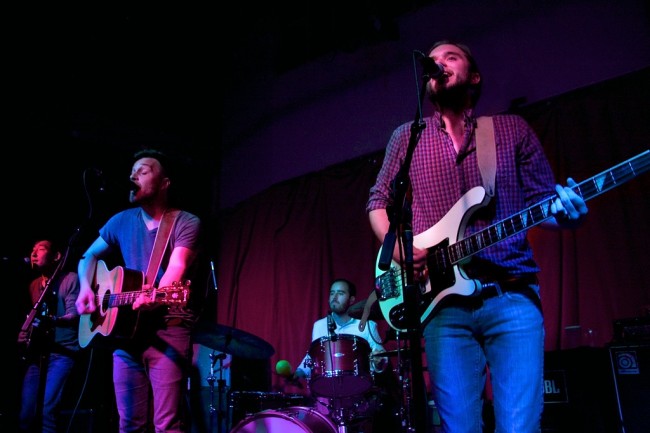 Finally, at 9pm, Ivan & Alyosha took the stage. The band's Sunday performance was more of a rock concert than the slow, wistful acoustic strumming on their album, but it was perfectly appropriate. Here's a video that someone took on Sunday.
This particular song, "The Fold," has always affected me on an emotional level:
Which direction does the wind blow
In the valley there below?
And brother, how should I know
The way that you should go?
There's a dream on the horizon
That's calling out your name
Better go and find your reason,
Better find your claim to fame
Don't you fold
When the mountain is high,
When the river is wide
Don't you fold
When you're out of your mind,
When you're walking the line
You can listen to it and download it (for free! legally! I promise!) at NoiseTrade.com. If you're in Nashville, this website is a must for discovering indie and small-time artists. You can hear the music, and if you like it, you can watch it live: Even if the bands are not based in Nashville, almost everyone tours here at some point.
When the concert ended, I stepped outside into the cold, wondering how I would get back to Vanderbilt. I could see the AT&T building dominating the Nashville skyline, but it was the opposite side of what I usually see from my dorm room window. The buses had stopped running sometime between 9 and 10, and I really did not want to call another cash-sucking cab. I made a couple calls to friends, but I finally overheard a couple of young people talking about calling a Commodore Cab. I immediately asked if I could share their ride back to campus and split the fare with them. They agreed. During the ride, they realized my status as a first-year student: "What are you doing so far from Commons, freshman?" This is just what I do: I go to interesting events whether or not I have accompaniment.
At this point every adult who has ever cared about me is shaking their heads at my lack of common sense, but… well, I really have no defense. I can only promise to be more sensible in the future. And by sensible I mean plan my next adventure at a venue to which I can walk.