Passport to Nashville- Country Music Hall of Fame
Since the 47th Annual Country Music Association (CMA) Awards are tomorrow, our campus is buzzing with student who are desperate to get into the show. A lot of my friends have found opportunities through Vanderbilt to volunteer at the show, and others have won free tickets from CityVU. I, sadly, will not be attending the show in any capacity. Instead, I visited the Country Music Hall of Fame through the Passport to Nashville program.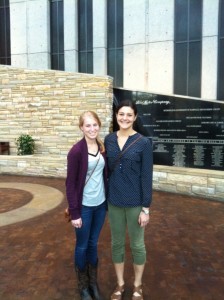 Passport to Nashville is a new initiative that is a collaboration between Vanderbilt Student Government, Vanderbilt Programming Board and the Dean of Students. With our student IDs, we get free entry into the Country Music Hall of Fame, Ryman Auditorium and the Hermitage, which is Andrew Jackson's home.
My friend and I decided to have our cultural outing this afternoon because the weather was beautiful and we did not have as much homework as we usually do. The Country Music Hall of Fame is right in downtown Nashville, so it was a quick five-minute drive. Even if we didn't have a car on campus, it would have been an easy cab ride. The building itself was absolutely beautiful. It is right across the street from the new, state of the art convention center and is attached to the brand new Omni hotel. Also attached to the museum is Hatch Show Print, which is a really cool Nashville based poster company. Hatch Show Print is totally unique and they usually make the posters for Rites of Spring.
The museum was great. If it weren't for the the Passport to Nashville Program, I would have never visited the museum. There is a $20 admission fee for college students, and I am not a huge country music fan. But, now that I have visited, I have a much greater appreciation for the industry. I feel more cultured and honored to be in a town that has so much history and respect in the music industry. I saw everything from the first electric guitars to Elvis Presley's private limo and Carrie Underwood's most recent tour wardrobe. The special exhibit this season is a tribute to Reba McEntire, "All the Women that I Am." I loved learning about all of her accomplishments in so many different disciplines. The entire museum was so interesting and full of awesome relics.
I can't wait to share my experiences at both the Ryman and the Hermitage (dates and times TBA).