How to Get an Internship
This summer I want to intern at a medical device company since that's where I want to work after graduation. Since I'm going to be abroad next semester, I've been hard at work applying, networking, and researching companies. While I don't have an internship yet, here are some steps that have helped me along the way.
1. Go to the career fair. This one seems like a given, but really, it's important to plan in advance and put the career fair on your schedule. For engineering, there is one in the fall and one in the spring. Also, have a professional outfit ready that is appropriate. I wear a blazer, a nice blouse, and a pencil skirt.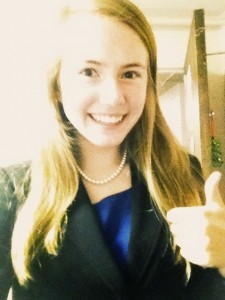 2. Take advantage of the Center for Student Professional Development (formerly known as the career center). They have weekly times that you can get your resume and cover letter critiqued and they've given me helpful information! They also have postings for Vanderbilt students on DoreWays and on-campus recruiting opportunities.
3. Hit up the Vanderbilt alumni. This has been most helpful to me so far, since most of the companies that I want to work at don't come to the career fair. First, I've researched companies that look interesting. Then, I found Vandy alum that work at those companies using VUConnect and email them asking if I can ask them some questions. I've gotten a lot of career advice from people and some of them are willing to help me get in contact with the people that run the internship programs. Not all of them reply, because they're busy people, but many do and are willing to help!
4. Do research before the interview. There are plenty of websites like Glassdoor where people who have interviewed at the company explain the process and list interview questions.
5. Make a LinkedIn and update it. This step sometimes seems a little silly since we're so young, but you can actually find a lot of internships on LinkedIn and if you talk to someone at a career fair, they may look you up on LinkedIn.
6. Learn about the industry. There's a website called Fierce that has a bunch of different sites for each industry. It updates daily on the news for companies in that industry, and you can sign up to get a daily email sent to your inbox. This website I heard about from a Vandy alum who was giving me advice- see, they can help!
7. Think about if you know anyone (family, one of your parent's friends) who currently works in the industry you would like to work in. My uncle works at Medtronic (which is like one of the top names for medical devices) and he has helped me out so much with being considered for one of their internships.
I think the bottom line is that getting an internship often isn't easy. I've learned it's much more important who you know, so networking is really important. Working on getting an internship can be difficult while also being a student, but internships are really helpful for figuring out what career path you want to pursue and many internships lead to a full-time job at that company. Best of luck to everyone looking for an internship and I hope this advice helps!