Going Behind Enemy Lines
Where most people were scrambling to get home as soon as they could to be in their warm cozy homes, I went on a crusade to Knoxville, Tennessee with 100 of my fellow Vanderbilt Football fans to support and watch our team as they played the Tennessee Volunteers at Neyland Stadium.
Sure I wasn't going to be able to sleep in my bed or have some home-made food for an extra day. But, my team needed me. James Franklin needed me. And so, we left Saturday morning at 11am and headed off East to go meet our orange opponents. The drive took around two and a half hours and we were greeted with a police escort that guided us all the way to Neyland.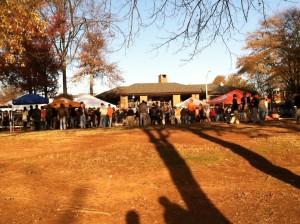 We arrived with plenty of time to spare: three hours before the game. So, we did the only thing there was to do… pick some fights. But not really. Since I went to high school near Nashville, a lot of my high school friends went to University of Tennessee for college and so, I went to go visit a couple of my friends. Eventually, I found some friends who were having a tailgate with their family and so we settled down. It felt dirty fraternizing with the enemy, but when they offer you warm chili with plenty of other snacks, its hard to say no. Eventually, we were full and we were ready. We headed off to Neyland Stadium to go cheer on our Dores.
When we arrived, we were pleasantly surprised to find out we had great seats: Third row by the 40 yard line. This excitement was diminished as I saw the name of Peyton Manning plastered in their stadium (Jae=Titans Fan, Peyton=Colts Player) and soon the flood of orange into the stadium. But it's ok. I was able to handle myself.
Soon, the game began. It was a very sloppy game with multiple turnovers possibly because of the cold weather? Either way, neither of the offenses played very well which created a very low scoring game. The game came to one final drive. After our momentous "I believe chant," The Commodores had the ball at our 8 yard line with 4:16 left in the fourth quarter. We were down 7 to 10 and needed a score from this drive to tie it and take it into overtime or to win it with a touchdown. With some important catches by Jonathan Krause and Jordan Matthews, we were down at the Tennessee 5 yard line with 21 seconds to go in the game. Before we go on, I'd like to mention that Krause is my next door suite-neighbour (lives next to me) and I told him before the game, "I believe in you." I would like to take all credit for him two spectacular catches in the last drive. Anyways, going back to the game. With only 21 seconds left, James Franklin pulled out Austyn-Carta Samuels (our starting QB) for our backup QB, the one and only, Patton Robinette. (Who, I also influenced back when we had class together Freshman year). Franklin called one of the most gimmicky plays I've ever seen: a fake hand off into a fake jump pass followed by a run-in into the endzone for the touchdown. The stadium went wild. Well, not exactly… our student section of one hundred went wild.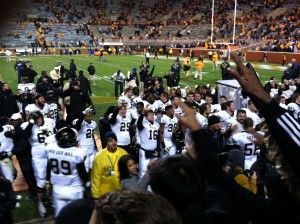 But nonetheless, we were ecstatic. We had won. We had defeated our rivals. The state was ours. We all got back into our buses and headed our way home with hearts lifted high and dreams of another 9 win season.
This pilgrimage would not have been possible without the gracious support of: Vanderbilt Arts and Campus Events, Vanderbilt Athletics, Vanderbilt Programming Board, Vanderbilt Student Government and IMG college.