Written in the Stars
It was meant to be.
A 28-33 loss to Georgia in 2011, a 21-26 loss to Florida in 2011, a 28-31 loss to Arkansas in 2011 and a 13-17 loss to South Carolina in 2012.
In the past 3 years of James Franklin's career as head coach of Vanderbilt Football, we have had multiple games where we were one pass, one field goal or one pass interference call away from a Top 25 team upset. But, we have finally done it.
On Saturday, the Vanderbilt Commodores defeated the Georgia Bulldogs in an exciting 31-27 win. It was a tough game where we came back from a 13 point deficit to comeback and upset the Bulldogs.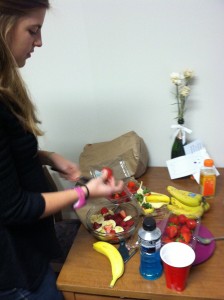 As the game was an 11 am match up, a proper pre-game ceremony was required  before entering Dudley Stadium. I woke up at 7 am and got dressed and went over to a friends dorm to get breakfast so that we could prepare our hearts and minds for the game of the season. We watched this video and we were ready. Vanderbilt football videos are my pump-up videos for all activities in my life. Flag football game coming up? Watch this. Minutes before an exam? This one. Time to start homework? This. You know how people say they'd want Morgan Freeman to narrate their life? I'd rather have James Franklin to be my personal motivator.
Anyways, back on track. After a great breakfast (perks of having friends who can cook), we headed over to the stadium and got settled in. Eventually… it was time for football.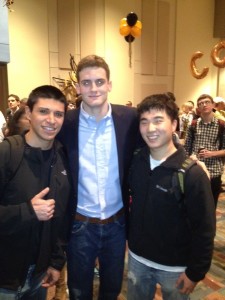 The game went decently in the first half highlighted by Carey Spears' fake field-goal for a touchdown. Unfortunately, our starting quarterback, Austyn Carta-Samuels was hurt during the second quarter and was unable to return for the remainder of the game. All hope seemed to be lost. But then, from the ashes rose a hero in Patton Robinette, the red shirt Freshman from Maryville, Tennessee who I had class with Freshmen year (Just saying…) He took over the reins when he was asked to and finished the job going 9/15 for 107 yards and a rushing touchdown.
It was all over when Javon Marshall picked off Aaron Murray and Vanderbilt lined up in the Victory formation and sealed the deal. The game was over and Vanderbilt moved up to 4-3 for the season whereas Georgia fell out of the Top 25.
Overall, it was a good day all around. We even topped if off with a visit to Chuys.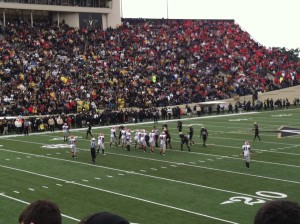 Now, we go to College Station where we will play Texas A&M followed by Florida at The Swamp. They'll be a tough stretch of games and it'll be tough to get past these teams, but I believe as our fearless leader James Franklin has led us to greener pastures. He has led us into the New Era.