Pumpkins
This Saturday, I spent the entire day at pumpkin patches. First, I went to the Franklin Pumpkinfest, which is an annual festival held in downtown Franklin. Then, I went to Cooper Trooper's Pumpkin Patch, which benefitted Pediatric Cancer research.
Bright and early Saturday morning, my friends and I woke up and headed down to Franklin. Franklin is about 30 minutes directly south of Nashville and it is known for its quaint Main Street filled with little shops and restaurants. Main Street was closed off and lined with street vendors, trick-or-treaters and food trucks. We didn't get the memo, but almost everybody else was dressed up. My personal favorite was a dog and his owner who were dressed like minions from Despicable Me. The dog was wearing jean shorts, which was hilarious albeit slightly confusing. We had lunch at a local sandwich shop and then visited the small carnival, complete with pony rides and rock climbing, and the chili cook-off before heading to Cool Springs.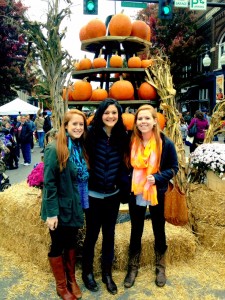 In Cool Springs, we volunteered at Cooper Trooper's Pumpkin Patch. Last year, my friends volunteered at the pumpkin patch with their sorority and they loved it so much that they decided to go back independently. This was great for me because I got to tag along. Anyway, the Cooper Trooper Foundation supports pediatric cancer research at the Children's Hospital at Vanderbilt. The organization was founded by a middle-Tennessee family after their youngest son was diagnosed with a rare form of cancer as an infant. They are also dedicated to packaging and distributing sibling kits, which help the siblings of the sick children understand and cope with the situation.
My friends and I volunteered at the Kid's Corner. We painted faces and decorated pumpkins with the kids who stopped by with their families to buy pumpkins. The best part of my day was getting to meet Cooper himself. He was there with his mom and his older brothers. His mom is now solely runs the foundation because her husband passed away this past year. It was heart-warming to see this home-grown altruistic effort succeed. Some of Cooper's friends, teachers and classmates came to support the family, which was also great to see.
The Cooper Trooper Pumpkin Patch is open every day until Halloween. If you are in town, you should consider stopping by!
Just in case this is my last real autumn before I head back down South, I especially loved the changing leaves and the brisk fall air. Overall, I had such a great day enjoying the outdoors while giving back to the community.