Kickin' it with Kendrick Lamar
After months of meetings/deliberation/preparations, this Thursday Commodore Quake was finally here!!!! This year's Quake was my first as a member of VPB's Music Group, so I got to experience all the fun from a much better view than before: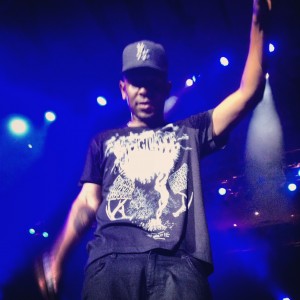 The artists we had this year were Wale and Kendrick Lamar, two of the biggest names in hip-hop, so to say I had anticipated the night for a while would be HUGE understatement. But as high as my expectations were, the night exceeded them all!
From Wale repping Commodore gear, to Kendrick Lamar bringing down the house at Memorial Gym, the whole night was surreal and filled with some of the best live performances I've ever seen.
The experience of Quake and Rites behind the scenes have been incredible beyond belief, but to be honest (aside from the amazing blog/Instagram content it provides) the reason Music Group is one of my favorite activities is because of the group itself. These guys are some of the most interesting, talented people on campus, and they make meeting/setting up just as much fun as catching shows from the photo pit.