Reasons I am Excited for Fall
In light of the recent media buzz surrounding the coming of fall (most clearly marked by the pumpkin spice latte coming back), I figured I'd share some of the reasons why I personally am excited for fall here at Vanderbilt. After all, being from Florida, this is really only the fourth year I've lived in a place that actually has fall. With the air having the slightest of chills, it seems that my most favorite season isn't far away.
1. Sweater weather–-the perfect balance between hot and cold, sweater weather is that time of year when you can still study outside, but you can do so in a large, soft, and snuggly piece of clothing often referred to as the sweater. It is the perfect weather because it is chilly and brisk, but there is still generally some sunshine and the sky is often still blue.
2. Changing leaves–If you live somewhere where the leaves change, then you have this to look forward to as well. However, you most likely don't live on a campus that is a national aboretum, so I'm sorry to say that I'm probably going to be having a more beautiful fall than you are. It's okay though, you can come visit!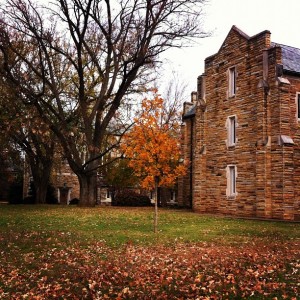 3. Loads of events! Fall is when everyone is finally getting into the swing of things, which means events like this one hosted by the Vanderbilt Programming board or the entire Visiting Writers Series are starting up.
4. Warm drinks— Whether it's hot chocolate, coffee, apple cider, or tea, fall weather means I have the perfect excuse to swing by Last Drop or wander to Provence for a delicious warm drink.
5. Breaks!–As much as I love school, I also love breaks–I'm particularly looking forward to going home in November because I haven't been there since May! And fall break is just around the corner. After that, time flies by and it's just a hop, skip, and a jump to Thanksgiving break and then Christmas break!
Time is flying by a little too quickly for my liking, but at least it's headed rapidly towards what's sure to be a fantastic fall.