Parent's Weekend!
I thought it'd be fitting to write my inaugural blog about another first I've had here at Vandy: Parent's Weekend! I've loved my time at Vanderbilt so far, but I've definitely missed my family, so it was great for them to come up here and see what Vanderbilt/Nashville has to offer.
My family flew in on Friday afternoon, and after showing them around campus for a while, we went to the Southern Grounds Music Festival featuring the Zac Brown Band. While I'm not a huge country fan, their performance was phenomenal, and they brought multiple surprise guests onto the stage including Kenny Rogers, Jason Mraz, Kenny Chesney, and my personal favorite, Lennon and Maisy. After the concert, we walked down the main strip of downtown Nashville, before we eventually caught a cab back to their hotel.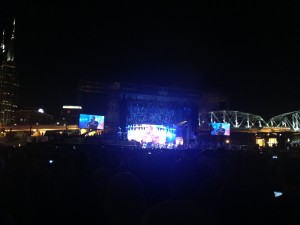 The next day, they took me to the Hillsboro Mall, and I guess time really does make the heart grow fonder, because they showered me with clothes they would have never bought me back in Dallas. Following a few additions to my wardrobe, we came back to campus and attended the tailgates before the big game. I had to work one of the tailgates for Vanderbilt Student Government, but the rest of my family still enjoyed their time there. Then we went to the game, and my family got to experience some Vanderbilt Football in our exhilarating win over UAB 52-24. After the game, we went to the nearby Qdoba and caught up, relishing our last few hours. To end the day, my family dropped me off at my room, and we said our goodbyes until Thanksgiving. While I do love Vanderbilt, I can't wait to go back home in November to see my friends and family again!