Senior Beginnings
Two days ago, I moved into a residence hall at Vanderbilt for the last time, and I feel pretty conflicted about it.  On one hand, there are a ton of things that I'm looking forward to in this new school year, but on the other hand, it's my last year here at Vanderbilt and I'm not ready to leave!  But I'll save the sorrow for another time–in this post, it's all about move in and the start of a new year!
My mom came with me back to Nashville to help get me all settled into my new room, and while the process is not done at this moment, it's finally starting to feel like home!  It's always a little bit strange to move into a new dorm, especially this year, since I'm living with five of my friends that I've known since our first year at Vanderbilt–and this is the first time we're all living together.  Living in a six-person suite, I'm sure it'll be an adjustment to living with five others instead of just three like last year, but I know it will be great!  We're working on decorating our common room, and this weekend we're planning a crafting night to make canvases and picture frames to decorate the walls!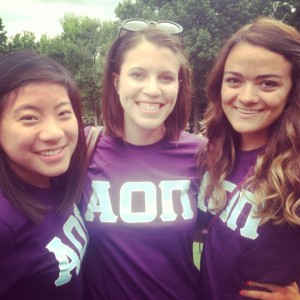 This year, I'm most excited about getting to spend time with my suitemates and the rest of my friends before we all graduate and go off into the world (yikes).  We're planning on packing in as much bonding time as possible into the coming months–starting right now!  Right this moment, all six of us are in our common room, chatting and painting our nails for the first day of school.  Let the memories begin!