My Last Move Crew!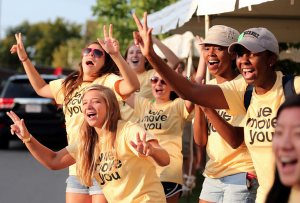 I woke up at 5:45 am yesterday…"Why?" you may ask. I would only do this because I love Vandy so much, and because the Class of 2017 needed help moving in! As we've mentioned before, each year students volunteer for Move Crew and basically attack the freshman cars and carry all of their stuff up to their room. It's amazing to experience as a freshman because you're already nervous and overwhelmed, so at least you don't have to get sweaty lugging fridges and microwaves up the stairs and you can stop worrying about overpacking for two seconds.
Since all the freshmen need to be moved in by noon, the first group drove to campus by 6:30 am, which is why I had to wake up so early (there was also a free breakfast at 6 am so obviously I didn't want to miss that). Upperclassmen were assigned to help at the dorms they lived in freshman year, so two of my best friends and I walked back to Sutherland (good memories). As cars started to drive by we all started screaming and cheering and showing the families just how much fun Vandy is. Then the real work began. I carried boxes, fans, bedding (if I was lucky), and duffle bags up lots of stairs and sometimes had to pack the belongings onto a cart if it was too heavy. Even though I was covered in sweat by 7 am, seeing the excitement on the new students' faces made it all worth it.
Move Crew was amazingly done by 11:15 am and I walked back to Towers to finish unpacking my own room. I'm living in a suite this year with my best friend Deanna and four other AOIIs, and I couldn't be more excited. Deanna and I are sharing the big double and it already feels like home. Move Crew was especially fun this year because we're seniors and it's our last time to show the freshman that Vandy can be their home too.
Here's a little preview of my new room! Notice the One Direction posters…