Intern Life- Learning from the Job
My internship has finished, as has my summer job, and with the first years moving in today…summer is rapidly coming to an end. With that being said, here's a list of my top 3 take-aways from my internship at redpepper this summer: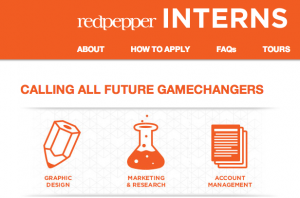 1. Your work environment makes a huge impact on your work. This is definitely something for me to keep in mind as I begin hunting for a job for after graduation. For instance, redpepper is filled with fun, talented, creative minds who always encouraged me no matter what crazy project I was pursuing.
2. A great internship is what you make of it. If you're ever planning on interning, this is definitely something to think about–take advantage of all possible opportunities an internship offers you, and use it to soak up as much info as you possibly can!
3. Learn from everyone. One of my favorite things about this summer was that at redpepper I got to work with a bunch of other interns, as well as people from all different areas of the company. I got a really diverse set of perspectives from people with a wide variety of talents that were vastly different from my own set–and that included my awesome fellow interns!
I'm so grateful for the opportunity to intern at redpepper this summer–it's given me fantastic insight into how an ad agency works, great job experience, and I feel I personally have more focus in terms of what sort of jobs I want to be applying to!