Weekend Catch-Up
Sad to say, Victoria and I are already falling behind on our weekend updates–it's because there's just so much to do! In this post, I'll give you a quick update of our second weekend in Nashville before launching into our third!
Weekend Two:
The main event of our second weekend was going to the Nashville Public Library! Victoria and I both love to read, and since we sadly do not have an unlimited amount of money to spend on books, the library is an enjoyable necessity. Having never been to the public library here in Nashville before, we were both immensely excited to see what it's like. And let me tell you–it is beautiful. We went to the main branch of the library that's downtown, and immediately upon walking in, we were speechless. After gazing around for about ten minutes, we began the process of getting library cards–and by process, I mean filling out a form and providing proof of our Vanderbilt addresses–so easy!  We spent the next two hours just wandering the library and checking out books, thoroughly enjoying the bookish paradise. After the library, we went to check out The Frothy Monkey coffee shop (something to check off our bucket list) and spent the next three or four hours there, reading our books and drinking delicious coffee.
That weekend, we also went to a free symphony concert in Centennial Park.  Previously, I had only heard wonderful things about the Nashville Symphony, and this was a prime opportunity to see it for free!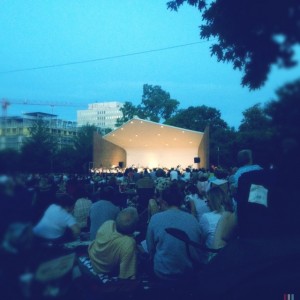 Weekend Three:
During our third weekend in Nashville, we spent a whole lot of time relaxing.  We also went downtown to the Frist on Friday night for free through the College Night program that let's students into the museum on Thursday and Friday nights for free with a student ID.  There was an awesome exhibit of "Art Deco Automobiles"–basically, cars that were REALLY cool to look at. (I don't have much of an attention span for museums, I'll admit it, but this exhibit is really awesome!)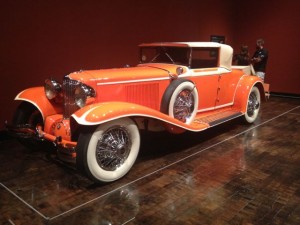 We spent the rest of the weekend relaxing and hanging out with friends at the pool in our friend's apartment complex (which was really nice, since not having a pool right in my backyard is killing me–the struggles of being from California).  We also went to the library again–and I found my favorite food truck–RetroSno–outside!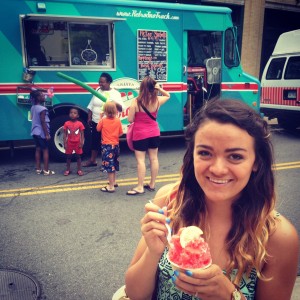 That's it for our second and third weekends in Nashville. Stay tuned for a recap of weekend four!