The Commons Explained
So, when I was a freshman, housing assignments were mailed on August 1st. We received a packet with our house, room number, room mate and details about the move-in process. Apparently, this year, students could log into their meal-plan selection and see to which house they have been assigned. I am sure that this has created quite the buzz on social media, so here is a little bit about all ten houses on the Commons that will hopefully ease some anxieties.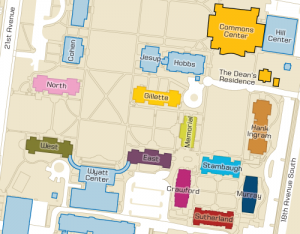 This is a map of the Commons. The Commons Center, found in the top right is where you can find the dining hall, the BEST munchie mart on campus, as well as a work-out room (endearingly referred to as the Estro Gym). Last year, the Commons Center opened up its third floor to be used as Political Science department offices and classrooms. Now, upperclassmen Poli Sci students have the luxury of eating and studying on the Commons afforded to Peabody students. Sometimes, I deeply regret choosing a major on main campus.
The light blue buildings are classroom and administrative buildings of Peabody, so I won't really address them.There are ten houses on the Commons. Each house is shown in a different color, and these colors symbolize the house in all spirit activities.
There are five new houses, and five newly remodeled houses. They all have pros and cons, so I think that I will only address the pros. I lived in Stambaugh, and absolutely loved it, but I have friends that lived in each of the other nine houses and had equally amazing experiences.
The house closest to the Commons Center is Gillette House. Memorial, the smallest house on the Commons stands next to it. Hank Ingram, probably the most well-known house because it is the largest, faces Gillette and Memorial. These three houses make up the lower quad.
The upper quad consists of Stambaugh (the best house), Murray, Crawford and Sutherland. These four houses, along with Hank Ingram, are the new houses. There is a Vandy Van stop in between Hank Ingram and Murray, which is easily accessible from any of the Commons houses.
The final three houses seem a little farther from the Commons Center, but keep in mind, that everything is connected by a walk of less than five minutes. Residents of North House often have singles or their own bathrooms. East and West Houses are connected by an underground tunnel and East house has an exit that leads to the upper quad.
Essentially, each house has its own character and rest assured that you will love wherever you are!