Priyanka's Packing Picks
As an incoming freshman, this was the time when everyone and their mother (literally) became dorm-decorating zealots with unwavering reverence towards Bed Bath & Beyond and encyclopedic knowledge of any and every product they carry (freaky, but helpful). Some people got wild ideas from Pinterest, others packed up everything and the kitchen cutting board (literally, a cutting board, brought by my roommate, used a grand total of once).
While fondly reminiscing the days of this craze, I decided to put my year's worth of knowledge gleaned from dorm-living to use and write down my additions to the official packing list— linked here for your convenience because even though this list contains some super necessary essentials (like fuzzy socks with the rubber grips), there other super necessary essentials (like bath towels) that aren't included:
Fuzzy socks with anti-slip grips: The fuzz makes them perfect for a night-in cramming for a Calculus exam, and the grips make them perfectly acceptable to wear down the hall for a bathroom break. Efficient and comfy!
Rubber flip-flops (preferably grey/black): The showers are actually pretty clean on Commons, but that doesn't mean I'd be up to bathe barefoot in them EVER. Shower shoes are a necessity, and since you're bound to walk out of the dorm in them by accident at least once, I'd suggest picking a neutral colored pair.
A small fan: Houses on the Commons have A/C, but roommates can have different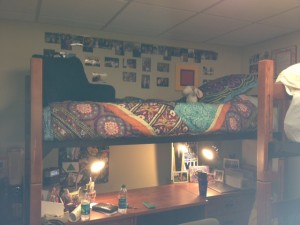 temperature preferences, dorm rooms can get muggy if you're inside for too long, and waking up drenched in your own sweat from spring to early fall gets old fast. You can't go wrong with a fan.
A small-ish trash can: Rooms come with one trash can and one recycling bin, but when I'm wrapped up in my Snuggie eating Cheetos cranking out some of my best work for Philosophy 100, I wouldn't break my train of thought for a Hayden Panetierre sighting at CVS, let alone the thought of properly disposing of my trash. It's just convenient.
Freestanding shelving and/or stackable plastic drawers: Do it, especially if you're a packrat with too many clothes/shoes/books/doodads/potentially helpful reference materials from high school that you bring along 'just in case,' that you will never once reference let alone look at for the rest of the year. I had three sets of drawers. THREE. Let that sink in for a moment. And in case you need another reason: A lot of people loft their beds, and while having an alarm clock on your desk may force you to get up to turn it off, not being able to roll over and see the time is mildly annoying, and if you sleep through the buzzer, your roommates aren't going to be happy campers waiting for you to get out of your bed and down the side and to your desk while it continues to go off. A shelf next to your lofted bed can solve all of these problems and make hitting snooze a lot easier.
Stick-on hooks (with university-approved adhesives, of course): With jackets and towels and bags, I can guarantee that a few extras are always welcome.
LAMPS: You can never have enough lighting. These are especially essential for people who study in their rooms at their desk underneath their lofted beds (me). I had two lamps for my desk and a reading light for when I decided to take the party (homework) upstairs. Sidenote: Lamps contribute to the necessity of fans, so think about that when making your picks.
Last year would've been tough without those items, but the packing fun doesn't stop there. If you're interested in additional picks/tips/my wealth of packing-related knowledge, please don't hesitate to shoot me an email. I'd love nothing more than to chat about the ideal number of picture frames to keep on your desk (three), my bed essentials (definitely invest in a husband pillow), and where to draw the line with childhood mementos (yes to a yearbook or two, no to all seven Harry Potters).