Hanging out* with Hunter Hayes
*Disclaimer: I use the term "hanging out" somewhat loosely, but if it was enough to get you here, I've done my job, right? There are finely filtered shots of celebrities to come though, so if not for me, at least stick around to appreciate your favorite stars/my Instagram finesse.
My fellow folks at Inside 'Dores have been posting all about music lately, and as someone who isn't terribly opposed to the bandwagon, what better time than now to hop on for the ride. My week back in Nashville came and went a while back (summer can get the best of Vanderbilt students, too), but I came back to Chicago a changed woman. After a whole 18-ish years generally rebuffing any music that contained even a hint of Southern twang, I found my tastes dramatically shifting before my weeklong trip was even over.
I came to Nashville in the first place to contribute to CMA Close Up Magazine's coverage of the CMA Music Festival, and aside from being an awesome opportunity to do the kind of reporting I like best, it was a really, really good time.
The festival ran from Thursday, June 6 through Sunday, June 9, and between hanging out at Fan Fair X in the amazing new Music City Center, eating my way down South Broadway at The Buckle, watching some incredible live performances with thousands of fans at LP Field, and writing all of it down, the four days were completely exhausting, but in the absolute best way.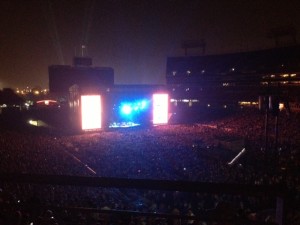 My favorite sets of the whole festival didn't all happen on the big stage, though. In my opinion, some of the best music of the weekend came from the ASCAP Writer's Day Showcase and the CMA Songwriter's Series with Bob DiPiero, Kristian Bush, and Brett James. The assignments I got took me to a lot of other cool events too, like the exhibition of the largest privately owned collection of Dolly Parton memorabilia (more weird than cool, but cool that such a weird collection exists), and even the front row for an intimate show by the Goo Goo Dolls. But energy-wise, there really was no comparison to being on the sidelines of LP Field watching some of the biggest stars of country music put on a show each night for 50,000 fans.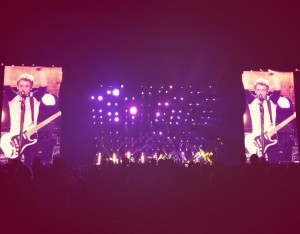 Aside from the music, my favorite part of the experience was covering the press conference with all the performers who played on Thursday night. I was definitely more than a little starstruck sharing a room with Taylor Swift, Luke Bryan and the Zac Brown Band, but listening to them answer questions and interact with journalists was really interesting, and getting to see the quotes I got run in USA Today the next day wasn't too bad either.
Readjusting to a normal life/sleep schedule/diet with no corndogs was pretty difficult after such a crazy, exciting week, but a combination of binging on Q's BBQ and ABC's Nashville cushioned the blow of leaving Music City once again.
And now, I'll make good on my promise of the celebrity photos for your viewing pleasure: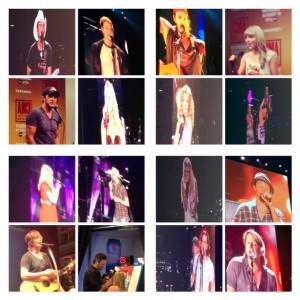 Footage from LP Field will air on ABC Monday, August 12 at 8/7c as part of the CMA Music Festival Country's Night To Rock special, and articles that I wrote for CMA Close Up can be found here.