Half Marathon? Half Crazy. (Part 1)
On Saturday, I set a personal record for the Country Music Half Marathon.  I set a PR despite the pouring rain because it was my first half marathon ever!
Near the end of every year here at Vanderbilt, I hear about many people I know running the Country Music Half Marathon.  Before this year, I always thought those people were insane.  While I may play soccer, and many people assume that this means I am in wonderful shape all of the time, I literally have always hated to run, and I am by no means in the best shape.  But then–at the end of last year, my friend Shilpa and I somehow decided that running the half marathon the next year might be a good idea.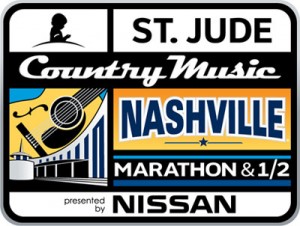 On 12/12/12, it came to my attention that registration for the half marathon was on sale in honor of the special day, and prompted by the idea of saving money on an otherwise pricey investment, Shilpa and I registered.  We made a pact–we'd train together all the time once second semester started, and we even made up a schedule.  Well second semester came around, and we followed that schedule for maybe a week.  After that, school got crazy, and since we don't really like to run in the first place, we just tried to run twice a week.  Then last week hit, and we realized that we had only run 6.5 miles at one time–barely half of a half marathon.  At that point, we sort of resigned ourselves to failure–we knew we could finish, but it was all a question of just how quickly (slowly) that would happen.
But then yesterday morning rolled around, and it was POURING RAIN. Of course, a little rain won't stop a race.  So at 6am, we trudged from Highland Quad down the street to the start of the race (it was conveniently close, right by Centennial Park) and proceeded to wait for the race to begin for the next hour and thirty minutes.  DID I MENTION IT WAS POURING?!  At 7:45am, we finally crossed the starting line, and the race began!
(Stay tuned for part two: the running of the race!)