Guest Blog: It Ain't That Cold
(Just when you thought Ann had all the scoop on white water rafting, here's another compelling tale of Tennessee weather and chilly adventures from Blair sophomore and fellow Floridian, Hunter Guthrie.)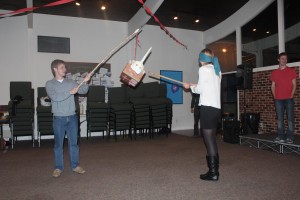 Having grown up in Florida, I was accustomed to sunny skies and warm temperatures year round. My heaviest winter coat was a teal sports hoodie, (Go Jags!) and from March to November you could find me at the beach regularly. Nevertheless, when I arrived on campus last year and experienced my first winter, I was shocked and hurt and offended. Friends of mine laughed condescendingly at my inability to weather sub 40-degree temperatures, making remarks such as "this is nothing" or "it ain't that cold". However, after two winters here on campus, and a down-right chilly Christmas break in spent in China, I came to realize that they might be right and the weather isn't all that bad…
So my friend Hannah and I decided to plan a trip with all of our friends last week, to one of the beautiful white water rafting spots around Tennessee. We set our sights on Tuesday April 30th for the watery festivities. It was going to be a beautiful day, without a cloud in the sky and a high of 82 degrees, perfect weather to compliment that frigid mountain water. Unfortunately, we didn't go that day. Until late May the rafting places only do trips on the weekends, and so we moved the trip up to the 27th. This resulted in a bit of a different experience on the rapids, due to the bipolar nature of the state of Tennessee's weather. We arrived at our rafting site, Adventures Unlimited, and were met with rain and 60 degree temperatures, instead of the warm sunshine we had hoped for.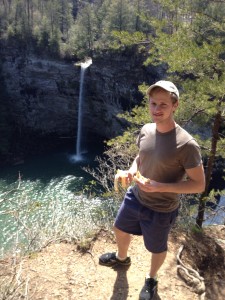 On the rapids, the rain ceased only momentarily and then returned with a vengeance. Our guide informed us of each rapid as we passed through, mentioning names such as Table Salt, Sneaky Pete, and Surprise! Each one was aptly named for its effect on the rider (I'm still not sure about table salt). Having sat on the front of the raft, every drop in altitude resulted in a splash so cold, I felt as if we were traversing the arctic seas. At one point resident blogger Victoria, decided that it would be cool to sabotage the rest of the boat, so she caused us to bottom out on a large river boulder, which promptly spun the boat out and left us stranded under a large vertical drop in the river [Editor's Note: This was in no way actually my fault. Perhaps someone at the front of the boat should have been paying more attention.]. This resulted in the front of the boat, where my friend Daniel and I were located, to nosedive under the pressure of the falling water and to fill our portion of the raft with water. Being that we were also stranded on a rock, Daniel and I sat under the onslaught of glacier meltwater for about a minute until our guide—who remained completely dry—was able to get the boat moving again. Once loose of this torturous rock, with motor skills significantly hampered from the cold water and shaking involuntarily, we continued our two and a half hour expedition. It was in this mildly hypothermic state that I came to realize that the rain was actually warm, in comparison to the water around me. Needless to say the rain was not actually warm, my body only perceived it to be after long exposure to much colder water, and my mind, too tired to care, obliged my body.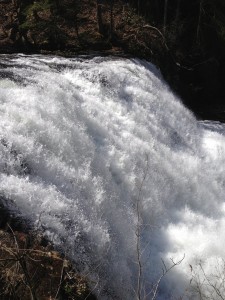 The main thing I took away from this trip is that Tennessee does not limit herself to wintertime to wreak havoc on unsuspecting Floridians. At the end of April, I found myself colder than I had ever been in my entire life, for longer than I ever want to think about. Of course, white water rafting overall was an absolute blast and I can't wait to do it again (in July). It is only one of the many awesome things to do around Nashville, but it is one of the best natural venues of entertainment in the state. I would highly recommend going rafting, it really is a great time. But do be warned, if somebody ever tries to tell you "it ain't that cold," call him a liar and run far, far away.