Why everyone should go to a Preds Game
To go or not to go to a Predators hockey game…that is the question. I have seen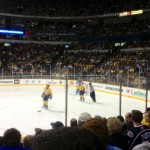 various advertisements in Vanderbilt's student newspaper, The Hustler, promoting student discounted tickets. Though this appealed to the inner deal-buster in me, I could never find a reason to go. But, when my brother bought me a ticket, there was just no saying no! Despite the fact that I have never seen a hockey game before in my life, I attended the Predators game last Thursday sporting (no pun intended) a XXXL Preds shirt which would probably hang like a dress on some of the players. Clearly, it was a last minute effort to make me fit in. Still, the experience was wonderful and I think everyone should go once!
Our super discounted tickets got us double booked seats with another group. Since we arrived after them, we courteously allowed them to remain in their seats and went down to the information desk for help. Suddenly, we had floor tickets! Score! (No pun intended again…) All the action was up close and personal. The puck was flying so close I thought it would hit me!
Reason # 2 There is a goat…need I say more?
I'm sure you know of the fan cheer meter for which fans scream loudly in order to get the meter to increase in "loudness". In addition, the goat, made famous by Taylor Swift's "I knew you were trouble remix", was our prompter for screaming.
Reason # 3 You might end up liking hockey
From the two year old kid who was screaming, "you suck ref!" to the great atmosphere with continued chants and unwavering support, Nashville is a fantastic fan base. I really hope to see the Preds go further in the playoffs!