Rites done Right
Anyone at or around Vanderbilt this time of year can tell when it's the weekend of Rites of Spring. The sky gets a little clearer, the music gets a little louder, and the good times get even better, which, at a school as fun as Vanderbilt, is a tall order. It being my first Rites weekend at Vanderbilt, I really didn't know what to expect, but I can say for sure that the weekend definitely lived up to all of the hype it has around campus. For a regular student here, the weekend includes tailgates, crawfish boils, and watching a bunch of amazing musicians in a crowd on Alumni Lawn, but as a member of VPB's Music Group, my weekend was a little different.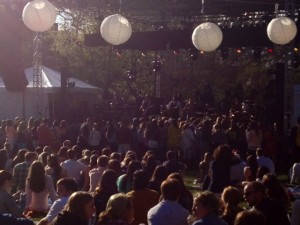 For starters, there really wasn't much time I wasn't with Music Group for the past three days. On Thursday from 5:45 p.m.-12:45 a.m., Music Group held a Battle of the Bands to determine which area bands would open on Friday and Saturday for Rites of Spring, and a Silent Disco, which was an event where you could listen and dance to different DJs through headphones. Both had an awesome turnout and were SO much fun to work. I had never heard of a Silent Disco before, but the DJ's were awesome and the event was pretty entertaining if you took off your headphones and got a good look/listen around you at the silent room of people dancing and singing along to their headphones.
I was on the Battle of the Bands committee this year, and I have to say that I've never appreciated the Nashville music scene as much as I should have until Thursday night. Listening to the demos of the 20+ bands that applied was incredible— they all sounded so professional and polished— and the 8 finalists who came to Rand Lounge (or 'Dank New Rand,' as some like to call it) on Thursday night put on an incredible show. The winners, Joel Heumann and Acklen, were so much fun to watch on Thursday and in their opening slots Friday and Saturday at Rites, but a lot happened between Thursday night and their sets on Friday and Saturday behind the scenes.
Putting on an event like Rites takes so much planning and the Music Group has been working on it since last year's Commodore Quake— waaaay before I was even a part of the group. Before the gates opened on Friday and Saturday, we spent hours setting up all the tents backstage, doing inventory for merchandise, and helping the artists and managers with whatever they needed. It took a lot of time and a little bit of heavy lifting, but it was really fun getting to hang out with the group, and it was definitely worth it getting to drive the golf cart around (before my driving privileges got revoked, that is).
The festival ran really smoothly, and aside from working the merchandise table and running occasional errands when necessary, members of the group had a lot of free time to hang around backstage, enjoy the awesome food (ever had a bite of a Krispy Kreme Cheeseburger? Add that to your bucket list right now), meet their favorite artists, and listen to some of the best music in Nashville.
I was consistently blown away with how great each and every artist sounded on stage. Every single artist and band, from openers to headliners, sounded phenomenal and put on unforgettable shows, and my spot in the photo pit let me get some incredible iPhone shots for you guys.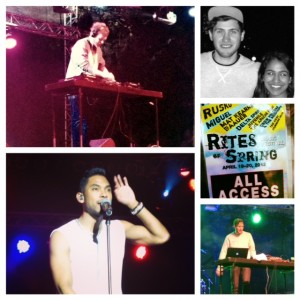 That being said, it's really hard to pick favorites, especially between so many different genres, but I especially enjoyed seeing the sets Mat Kearney, Baauer, and Drew Holcomb and the Neighbors had for us. But, not all of my favorite times happened on stage.
With a little stalking/waiting, I got to meet Baauer, Rusko, Mat Kearney, Miguel, and Bo Rinehart of NEEDTOBREATHE, and in a unbelievable stroke of luck/opportune bladder timing, I ended up on the girls' side of the bathroom trailer as one of my favorite artists in the world, Mat Kearney, did a little last-minute rehearsing next door.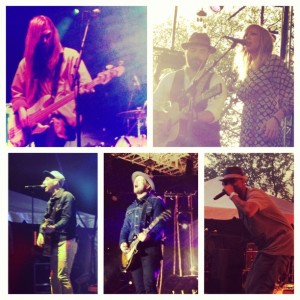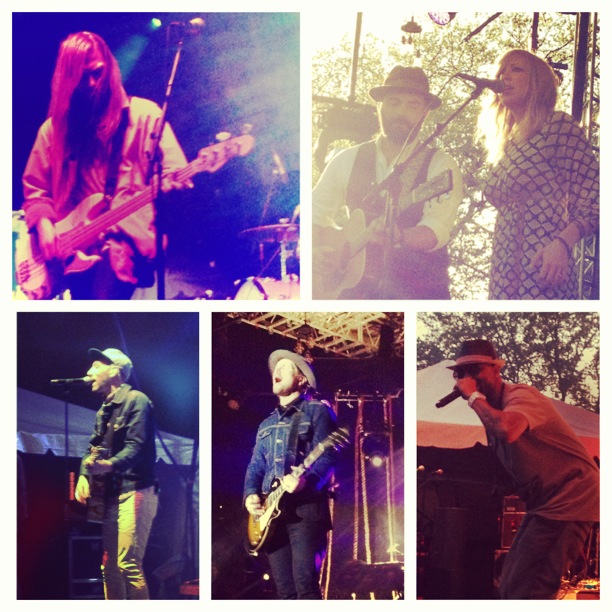 Whether you're watching from a blanket on Alumni Lawn, raging with your best friends in the front row, or bopping along to the beat in the photo pit, Rites weekend is an incredible time and a hallmark of the Vanderbilt experience. I can't wait to help put on the next three for you guys.