Registering from Abroad, Part 2: Classes
Here comes Part 2 of my guide to registering for housing and classes from abroad.  If you missed Part 1, check it out here.  In this section I will focus on figuring out your course schedule from abroad and setting yourself up for a great next semester.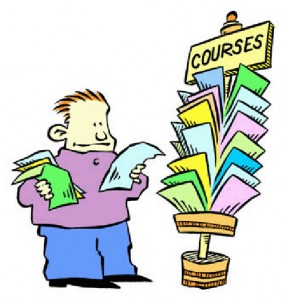 First, it is important to check out your Degree Audit, which every Vanderbilt student can access through the YES (Your Enrollment Services) website where you'll get to a page that looks like the image below.  And yes, that picture is my high school senior yearbook picture, and no I will not be changing it to something from within the last 3.5 years.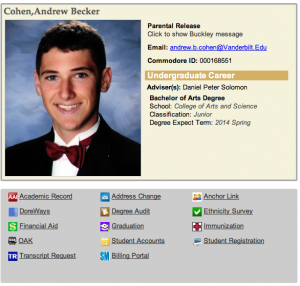 Clicking Degree Audit from the selections below the picture brings you to a list of the requirements that you need to complete as a Vanderbilt student.  This is dependent on what college you are in and your major.  The Degree Audit easily breaks things down so you can see what you still have to accomplish whether it be AXLE credits, general course hours, or specific requirements for your major.  I have completed my AXLE requirements, so I am working on getting enough hours to graduate under "Academic Standards" and completing my sequence of Latin classes under "Concentration in Classics."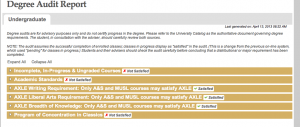 Once you see what kind of classes you still need to take, going back to the main YES page an selecting "Student Registration" brings you to the list of classes that will be offered during the upcoming semester.  Since all of this is online, you are able to peruse the classes at your leisure and see what interests you and maybe what your favorite professors are teaching next semester.  I definitely recommend the "advanced search," which allows you to search for classes not only by department, but also by the time of day, days of the week, professor, or any keyword.

After searching around for a bit and compiling a "Cart" of classes, I had a good starting point for a schedule.  And after emailing a few professors to ask about their classes, and of course checking out the VOICE (Vanderbilt Online Instructor and Course Evaluations) student reviews of professors that are now available to all Vanderbilt students, I had a schedule I was proud of for my penultimate semester at Vandy.
With the entire process available online and professors that are eager to answer email questions about their courses, it was easy to set up a schedule from abroad.  To register for it was a slightly different story since registration begins at 8:00 AM Nashville time, which means 3:00 PM Rome time, a time that I'm usually in classes or out and about in the city.  Luckily my registration day fell on a day where I had a break between lunch and my 5:30 PM Latin class. (Although I did at first count the hours wrong, thinking of Eastern time instead of Central time since I'm more used to figuring out timing for talking to my mom in NY.)  Anyway, the process really couldn't have gone more smoothly if I was physically at Vanderbilt.
Having this system set up so easily for students to prepare for the upcoming year no matter where they are is one of my favorite things about Vanderbilt.  It is just so clear in all of these systems that Vanderbilt is open to suggestions to improving their accessibility for students and that we have some really brilliant people making suggestions.  It may not be one of the things that you first think about when applying to colleges and then making your choice, but the ease of student registration for both housing and courses has always made me happy to be a Vanderbilt student.