Pancakes and Pirouettes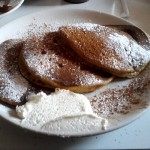 In the anticipation of fluffiest pancakes you have ever tasted drowning in some magical sauce concoction, its easy to motivate oneself to wake up at six in the morning in order to get in line for Pancake Pantry. I figure that every one deserves a day off! After my Microbiology exam on Thursday, I declared Friday my day off since my next two exams are on the next Thursday…and I have plenty of time to study…right? The only downside of going to Pancake Pantry is picking out what you want to eat. I tried their famous delicious sweet potato pancakes on my last visit, but I wanted to be adventurous this time. The lovely waitress completely understood and allowed me to split my order between two different types of pancakes on a plate for one order. One half wild blueberry pancakes and apricot-lemon coming right up! No regrets. By nine, we were done and I head right back to sleep!
At night, it was time for the ballet! I have never been to a Nashville Ballet production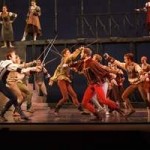 and I was excited to see what their portrayal of Romeo and Juliet would be like. The fact that the production was three hours long didn't even phase me! I was engrossed by every move of the talented company dancers. The production left me speechless. The layers of complexity enriched the performance, making the interpretation of the centuries old story a glorious retelling, from the ornate period costumes to the masterful scores written by Sergei Prokofiev and performed by the Nashville Symphony. Despite the ubiquity of the tale, the talent of the company was demonstrated by their ability to make the audience to re-experience the story, laughing at one moment, gasping the next, but, most importantly, being genuinely moved by the love of Romeo and Juliet.
Needless to say, I call this day a complete success! Now…to study or not to study…that is the question…thanks Shakespeare.