Packing for Vanderbilt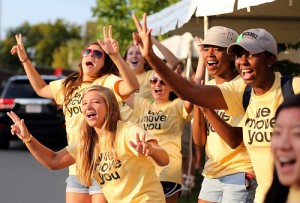 As I defrost my fridge and empty my Brita filter for summer, I remember when I was first packing for Vanderbilt not knowing what exactly to bring. Here are my suggestions for what appliances are worth it:
Mini fridge: Worth it. It's great to be able to store leftovers or keep milk, but you definitely only need one in a room so you can coordinate with your first-year roommate about who brings what.
Microwave: Worth it. Though the munchie mart and dining areas also have microwaves, it's nice to be able to warm up said leftovers whenever you want without having to leave your room.
Printer: Worth it. There's printing all over campus and it is pretty cheap, but I don't like the stress of printing out a ten page paper on a public printer right before it's due (they run out of paper, run out of ink, freeze, etc.). I'd rather print something in my room the night before and check that off my list.
Keurig/Coffee Maker: Worth it, but not until after freshman year. All first-year students have three meals a day and can get coffee with breakfast. Now that I'm down to 14 meals a week though, I usually have cereal and coffee before leaving for my first class. (Side note: I didn't drink coffee until college, and even then not until my second semester.)
Brita Filter: Not really worth it. There are water fountains on each hall and I only got one sophomore year because the water in my Mayfield tasted weird. Other than that, I haven't noticed any differences in the water and mainly use it to fill up my Keurig.
TV: Not worth it. You can watch most TV shows and movies online these days and if there is any big live event on TV, you can usually watch it at Commons or Rand. I will say that we had a TV in my Mayfield with a Wii and played Mario Kart all the time, so maybe if you're really into video games it could be worth it.
Futon: Not worth it. Having a futon requires you to loft your bed, which I'm already not a fan of because it's not easy to climb in and out of those things. Also if you ever have guests visit, they're probably expecting to sleep on the floor anyway and can bring a sleeping bag.
Not necessary but fun touches: a colorful rug, curtains, a mattress pad, bulletin boards, pictures…you get the idea!