Why Vanderbilt?
As regular decision letters were mailed yesterday, I am sure that this is the question on so many young minds (and on the minds of a few older parents as well). Though I can't answer this question for you, I can give you a little bit of insight into my own personal answer.
If you asked me where I would be going to college at the beginning of my senior year, I definitely would not have answered Vanderbilt. I really wanted a school in a college town with great academics and great athletics. I did not realize that Vanderbilt was so much greater than the school for which I thought I was looking.
Nashville is the most amazing city and the Vanderbilt community provides the college-town feel. Did you know that The New York Times recently wrote an article about how awesome Nashville is? The food is great, there is always a cool band in town, and we are just ten minutes from the airport (and a 2-hour direct flight from Miami!). Never underestimate the importance of traveling easily. I know I did when I was deciding on a school!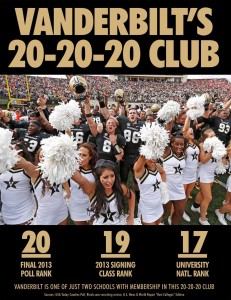 In terms of athletics and academics, Vanderbilt is an SEC school. Not only do we get to see elite competition, but we also have growing programs, (I am looking at you, Coach Franklin). Vanderbilt is also only one of two schools in the nation with a top 20 ranking in the following three categories: National University Ranking, 2013 Signing Class, 2013 Final Poll Ranking. My classes are interesting and challenging, and my peers are more than willing to help me when I am struggling or engage in an intellectual debate if I'm looking to argue. I am not saying that we never have fun, but there academics are always present on campus and I love that.
If I had to choose my favorite thing about Vanderbilt, it would be the sense of community that I find here. From the minute my car pulled up bright and early that Saturday of Freshman move-in, I knew that I was home. The freshman Commons experience is totally unique. I have never felt alone here because I am constantly surrounded by friends, peers and staff who love Vanderbilt as much as I do.
I leave with you with some inspirational words:
ANCHOR DOWN.