What I'm Looking Forward To
Well, spring break is over, and it's time to finish the last few weeks of classes before summer vacation. While the end of the semester is just around the corner, there is still so much to do at Vanderbilt and in Nashville. Here are a few things that I am looking forward to in the next couple of weeks:
Café con Leche: This event is a Latin dance showcase that is presented by the Vanderbilt Association of Hispanic Students. The show features many performances of Latin dance such as tango, meringue, samba, and paso doble. Some of my roommates are members of VIDA, the Latin dance group, and will be performing in the show. I can't wait to see all the hard work they have put into this performance! The show is Saturday March 23rd at 5 PM in Langford Auditorium.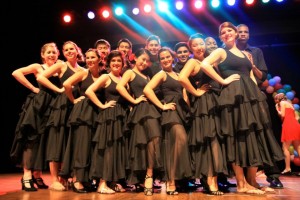 Flashdance: The Tennessee Performing Arts Center (TPAC) will be presenting Flashdance: The Musical. I will be attending a matinee performance of the show on Sunday March 24th at 1 PM. I have seen the movie with my mother, and I remember loving the music and the dancing. The best part about this event? The tickets were FREE. I am a Chancellor Scholar, and our sponsor bought enough tickets for a group of 25 of us to see the show. I am thankful for the generosity of our sponsor, and I look forward to seeing the show.
Spring Awakening: This Broadway hit is the spring musical that will be performed by Vanderbilt Off-Broadway (VOB) this upcoming April. The musical is based on a German play about teenage discovery. The show is a little risque, so it will be interesting to see how the Vanderbilt cast executes the performance. My good friend plays piano for the orchestra, and I can't wait to cheer her on at the first performance!
Elton John Concert: After seeing Billy Joel on Vanderbilt's campus in January, I had to buy a ticket to the upcoming Elton John concert. This fabulous artist is performing in Nashville's Bridgestone Arena (home of the Nashville Predators!) on April 5th. I found tickets on StubHub for only $25! I'm super excited to enjoy timeless music.
These are just four events that I am looking forward to in the future. There are many more, and they will keep me motivated through these last few weeks of classes. I can't wait to explore more of what Nashville and Vanderbilt have to offer throughout this semester!