Reminiscing about ASBreak
This is a little overdue, but I promised I would write about my spring break experience! I was a little nervous before the trip as I was taking on a new role in the program as a site leader. However, I'm happy to say that my ASB experience this year was just as enjoyable as it was last year.
My ASB group went to Los Angeles, California to work with the homeless and HIV/AIDS communities. When we arrived the first day at our home for the week, the St. Vincent Cardinal Manning Center, we were shocked by the poverty stricken neighborhood. I was definitely placed out of my comfort zone, but throughout the week I became more comfortable with my surroundings as I learned extensive information about the issues in Los Angeles.
We spent most of the week volunteering with three organizations: Project Angel Food, Being Alive, and Clean Needles Now. Project Angel Food is an organization that makes meals for people with HIV/AIDS. We spent our mornings cooking meals and helping plate and package them for delivery. Being Alive is an outreach organization for those infected with HIV/AIDS. We helped them with chores around the office, and the staff informed us about the stigma behind HIV and new approaches to lowering the risk of the disease. Finally, we spent our evenings with Clean Needles Now, an organization that exchanges dirty needles for sterile ones. We helped assemble packages for clients that came to their sites around the city. Our service projects were diverse, and I learned so much about HIV/AIDS in a short week.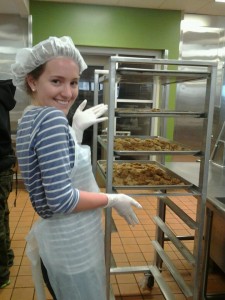 When we were not volunteering at these three organizations, we were having dinner with the clients at St. Vincent's. We got to talk to the homeless men who lived there, and many of them told us their life stories. Our experience with the men of St. Vincent reaffirmed that there are many paths to homelessness and that this population needs support to overcome their plight.
While it was a week filled with service and education, we were also able to have a little fun! We spent our free day at Santa Monica beach, and we spent an afternoon scoping out the tourist sites like Hollywood Boulevard and Rodeo Drive. My ASB experience was filled with so many memorable moments that it is difficult to pick my favorite part of the trip.  However, I treasure the opportunity I had to meet eleven amazing Vandy students and the deep bonds we formed within our ASB group during the week. I probably would have never crossed paths with these people without this trip, making me even more grateful and passionate about Alternate Spring Break!