Mom's Weekend
Last weekend was Mom's Weekend for my sorority, Alpha Chi Omega, and I had so much fun hanging out with my mom.
She flew in on Friday and we went to the Smiling Elephant for dinner. It's a Thai restaurant that I've always heard is amazing. My mom loves Thai food and I've been dying to go there so it was the perfect opportunity. I'd heard that the restaurant was pretty small and filled up fast so we ended up eating an early dinner, but it was quite delicious. I ordered the Pad Thai and while it was different from American Pad Thai, it was still yummy. After that, we went on the regular parents-are-in-town Target trip to pick up all the random items I can't get normally. Shopping tends to be one of the major activities whenever my parents come to town.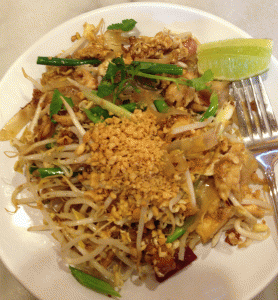 Saturday morning we headed to Franklin, which is this absolutely adorable town 30 minutes south of Nashville. We had fun walking around and eating delicious food at a bakery. Afterward we went shopping at the Cool Springs mall. Saturday afternoon Alpha Chi had a cooking class at Whole Foods for all the sisters and their moms. It was so much fun cooking and getting to meet the other moms. The cooking itself wasn't too intense, but the food was quite tasty. Later on I introduced my mom to Gigi's cupcakes-they're the best and a Vandy favorite!
Sunday morning I took my mom to Ethos, the church I normally attend. I also showed my mom the Alpha Chi house and we got breakfast at Provence– a cute cafe in Hillsboro. After that, my mom was on her way. :( I had such a fun and relaxing weekend with my mom and it was really nice to spend time with her one-on-one. I was a little homesick since this will probably be the most I see of my family all semester. But judging by how fast this semester is going, I know May will be here before I know it!