Signing Day
So, as you probably know, I love sports. My favorite sport is football. One of the reasons that I chose Vanderbilt is that Vanderbilt is in the SEC. I knew that even if our football was not so great, we would still have gameday saturdays and get to see great competition. Little did I know, that a team that won two games my freshman year, would go on to attend back to back bowls and hold the longest active win-streak in the SEC.
I cannot believe that I forgot to blog about this- but better late than never, I suppose. A few weeks ago was national signing day. This day has never really been a big deal here because Vanderbilt is not known for contending and signing big-name recruits. This year, however, was different. Coach James Franklin put Vanderbilt in the mix and we signed some pretty big names, including Jordan Cunningham, a top 10 wide receiver from South Florida (whaddup!). Click here to visit Vanderbilt's official signing day website.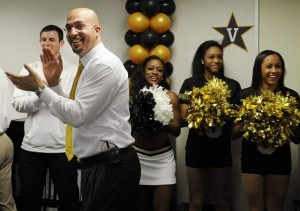 Naturally, my friends and I decided to attend the on-campus signing party. The event was open to students, but not widely publicized, as it was predominantly for season-ticket holders. The party was so cool. They served stadium hotdogs and soda. The band, the dance team and the cheerleaders all performed and there was an abundance of black and gold spirit. Eventually, Coach Franklin took the stage. He announced his coaching staff and then introduced each recruit. We got to watch film of each recruit and we learned about their strengths. My friends and I sat in the front row. I wonder if James Franklin knows who I am by now. I pretty much follow him around campus. (Coach Franklin, in the event that you ever read this or any of my other blog posts about you, I just want you to know that I am probably your biggest fan!)
The evening was a mini pep-rally for what is sure to be another exciting football season. ANCHOR DOWN and GO DORES!