2 Days 'til ASB!
On Saturday morning at 8 AM, I will be driving one of two minivans pulling away from Vandyland headed for Kansas City, MO for Spring Break.  While KCMO may not sound like the most exotic, or even exciting, Spring Break destination, it is actually going to be one of the best weeks of the year because it is where my Alternative Spring Break (ASB) trip is headed.
Numerous bloggers have written in the past about their amazing ASB experiences.  From South Dakota to LA, Texas to New Hampshire, ASB has sites all across the US, and even a few international sites in places like Nicaragua, Puerto Rico, and Jamaica.  This year, there are something like 39 different sites with nearly 600 participants overall.  It's a crazy fun experience and is something in which Vanderbilt students love to participate.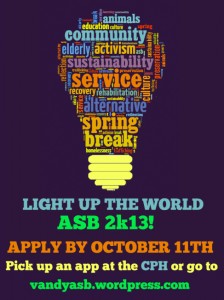 I am co-leading the trip to Kansas City this year called Jungle Gym and could not be more excited.  We are going to be working with the Niles Home for Children, a place that works with kids with emotional, psychological, or behavioral disorders.  They have a school during the day for students who need extra help with these problems in school, and a resident program mostly for kids who have suffered through abuse or neglect.  I know this sounds really overwhelming and powerful, but I think I will learn a lot and have a ton of fun playing with kids for a week.
Despite being from Missouri (St. Louis!), I have only ever been in Kansas City for a few days, so this will also be a cool time to explore a new city.  We are going to spend a day investigating the farmer's market, walking around downtown, taking pictures with fountains, and hopefully finding a delicious barbeque restaurant.
ASB is one of the best things I've ever been involved with at Vandy.  I'm so excited to be co-leading this year and cannot wait for the ASBest Week of the Semester!