Blair's Concerto Competition
In mid-January, the Blair School of Music hosts its annual Concerto Competition.  The stakes?  Endless practicing.  The prize?  A chance to solo with the Vanderbilt Orchestra.
Here's the process:
1. Talk with your teacher. At this stage in your musical career, you are building up your repertoire list.  You are probably already playing a concerto, so your teacher will probably recommend for you to practice hard and set your mind to a deadline.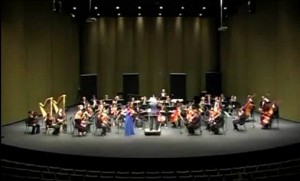 2.  Fill out a form. You turn in this form before winter break, writing down all the information on a movement of your concerto.  If you have any questions, you can field them to Professor Felix Wang, who is the competition chair.
3.  Practice, practice, practice. Know your part well, you'll advance further if your memorize your piece.  Also make sure you practice with your accompanist.  At this time, the instrumental department has three full-time accompanists.
4. Get psyched. This year, there were over forty competitors in the annual Concerto Competition, which takes place on a Saturday.  Four judges, a pianist, a string player, a wind player, and a brass player, who are all musicians from the Nashville area and are not Blair faculty, will hear exactly six-and-a-half minutes of your concerto.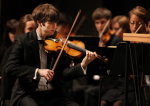 5. Wait for the call. Ten finalists will receive a call and an email about their success on advancing to Round Two.  On the following Sunday, the competitors will perform on the big stage in Ingram Hall for the judges and for the general public.
6. Celebrate! After much deliberation, the judges will choose up to three winners and an alternate!  If you are fabulous and you win, you will rehearse with the Vanderbilt University Orchestra under Maestro Robin Fountain and in April's concert, dazzle the audience with your musicality and pizzazz.
So who gleaned the coveted prize this year?
Congratulations to Amanda Mitchell, flute; Thomas Ridgway, piano; and Amy Thompson, harp as the winners of the 2013 Concerto Competition!  Can't wait to play with you in April!