Back To The Cutting Board
Note to the reader: This next paragraph was a lot more relevant when I started this article… four weeks ago. Nonetheless, I think the Google Trends graph is fascinating and hilarious, so enjoy.
First things first: Congrats on making it to the new year! We made it past the "Apocalypse" of December 21st, good work. For your entertainment, here's a Google Trends graph for the search term "Mayans" – I imagine it will take a nosedive in the upcoming days and especially months.
As faithful readers should be aware, I love cooking! Unfortunately, my busybusy schedule and lack of kitchen equipment (not much room in my V-B single for cookware and stock ingredients) mostly prevent me from engaging in the rituals of food production at school. While I am certainly looking to change that soon, this break has been a welcome return to the preparation of victuals, the cheffery of hearty and delicious fare. I've been a little inconsistent with my picture-taking, as I'm generally very busy actually doing things during the cooking process and thus unable to properly and thoroughly document my cooking experiences. Thus, the following will be a single picture of victuals I produced over break: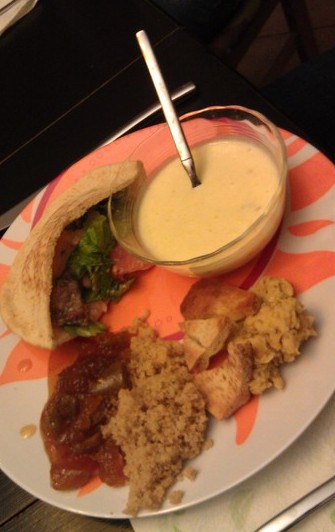 Also food-related: I received a cookbook for Christmas that has become one of my favorite English-language works: The Science of Good Cooking. Besides heaps and heaps of recipes, the book covers the basic techniques and 50 good practices of cooking from a cellular level up, so an accomplished chef (or reader of the book) can understand the ways in which different cooking techniques affect the food. I'm not doing it justice with the description, but I can say I'm super excited to use it more. Look for more delicious posts later this semester!