Three-Eighths
Hello one, hello all!  It has been a long time since I've posted.  Not that I haven't been blogging… it was just a matter of actually publishing my drafts.  Ah, well, now that this semester's over and I'm still at Vanderbilt, let me fill you in on a few things and explain why I'm still in warm-weather Nashville.
First things first: updates.  This semester is over (finally).  It's crazy to think that I am already halfway through sophomore year… three-eighths of the way done with college.  So many papers, quizzes, tests, projects, concerts, and practice hours have whizzed by.  Not to say that those seemingly endless, stressfully hectic days were by any means easy.  But reminiscing on the studying in the Mayfield with my housemates, slogging over to the library to find one more book, and practicing with Dmitri in a little room at Blair doesn't seem quite as bad as it was at the time it was actually occurring.  (Let's see if I can convince myself that finals aren't going to be that bad at the end of spring semester.  Unlikely.)

In the midst of the tiresome final essays and tests, there were times of great happiness.  For instance, finals week was filled with birthdays and half-birthdays.  In the Mayfield, that Monday was Emma's birthday, Tuesday was my half-birthday, and Wednesday was Corey's birthday.  Therefore, the other silly Mayfielders woke up at the ridiculous hour of 3:30 a.m. and blew up the place with birthday elements such as balloons, streamers, posters, and signs to surprise the three birthday-ers.  Pun intended.  Then they made a blueberry pancake breakfast in honor of us.  To top that off, they even got us presents.  Mine consisted of a cookie sheet that would actually fit inside our dinky little oven and an adorable apron, both testaments to my baking obsession (and also an excuse for them so I would bake inside the Mayfield more instead of going up to use an normal, full-sized oven in a Lewis suite).  Clever ones, my fellow Mayfielders are.  And incredibly sweet.  ILOM.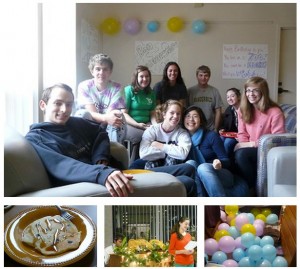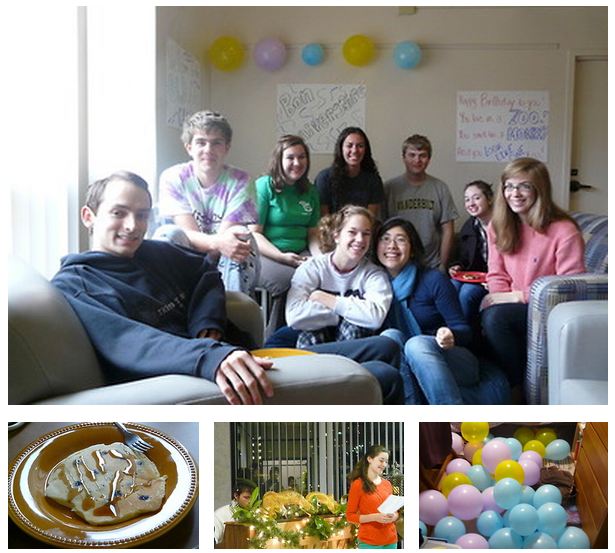 Now that finals are over, what have I been up to?  On Sunday, there was a lovely Christmas gig where I played with a few other people some classic Christmas songs with a twist, kind of like jazzed up and rocking out hymns.  That night, I invited two wonderful friends over and we baked pumpkin spice cupcakes with homemade cream cheese icing.  Shortly after, another one of my fantastically fun friends came over and we played the largest assortment of card games imaginable.  Yesterday, the Mayfield underwent a thorough cleaning, vacuuming, sweeping, and Swiffer-ing galore.  Practicing and Chipotle were in order and it was a thoroughly relaxing day.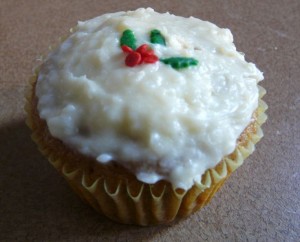 And now I owe you the explanation to why I am writing to you from the couch in my Mayfield while sipping on a mug of hot chocolate.  The Vanderbilt Orchestra is, drumroll please, heading to China!  We are on a tour, performing in the cities of Xingtai, Nanjing, YanCheng,and Beijing!  It is going to be a whirlwind adventure!  I will tell you all about it in my next post.
Let's see if I can blog at least every other day until China!  'Til then, ta ta!