Symphonie Fantastique
You might think that the title of this post is a witty way of saying that the Nashville Symphony performed a fantastic concert last weekend, and you are absolutely right.  But I'm obligated to say that this was the eponymous finale of their program by Berlioz, so actually, the title isn't that clever.  I try.
Anyways, we had bought our tickets online a few days prior to concert day.  And with the Nashville Symphony's fantastic program called SoundCheck, we college students may purchase up to two tickets at the excellent price of $10 each.  And we may choose any seats we please!

So what better for Blair kids to do on their Friday night than go to the Schermerhorn Symphony Center for a delightful evening of music?  We boarded the bus downtown, which is a much more efficient way than riding a bike or walking and much more cost efficient than hailing a cab.
When we arrived, we saw around half of our school there.  From the pianists to violists to vocalists to horn players, the Blair School of Music had invaded the Nashville Symphony.  Yes, that is what we music majors do to kick off our weekends.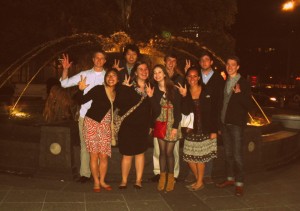 All jesting aside, this Friday night was incredible.  With the charming guest conductor Jun Markl, the concert began with Messiaen's Un Sourire (A Smile), which was a short piece that was rather slow  for my taste but prettily played.  The next part of the concert was significantly more engaging as the virtuosic Stefan Jackiw wowed the audience with his technical prowess and glittery cleaniness of Korngold's "Violin Concerto".  His tone was always sweet and his interpretation of the Korngold was exhilarating yet tasteful.  Berlioz's Symphony Fantastique was the dysphoric, magnificent finale and Markl gracefully guided the orchestra through a tumultuous array of emotions.
This performance exceeded my expectations, and so all the Blair people chatted about it as we figured out our post-concert plans. Some went to Mike's Ice Cream for a late night treat, but my friend Trevor and I caught a ride with our friend Katie to the BCM's Annual Barn Party.  'Twas a great Friday.