First Post/ I'm Going to Rome!
Well, this is my first blog post of the semester, so I should explain why I've been so busy. This semester, I spent much of my time working on an application to study abroad. Working on writing samples and paperwork for this process was definitely time consuming considering I have regular schoolwork as well, but it was all worth it since I was accepted to my program and will be in Rome next semester!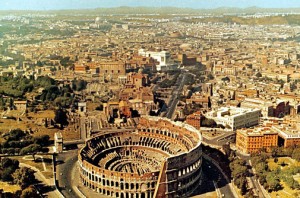 On the Vanderbilt side, they make the study abroad applications as easy as possible with online checklists and reminder emails that ensure you are up to date with all forms and will have your opportunity to study abroad. The program I will be attending is at the Inter-Collegiate Center for Classical Studies in Rome. This program actually isn't directly through Vandy, but our Global Education Office here has made it easy to work with the ICCS application. Vanderbilt also accepts all credit hours from my program and even lets me pay for my program by continuing to pay Vanderbilt as usual, while they take care of paying for the program themselves.
With the work of the actual application, it is so nice to know that Vandy helps make the details of the program so easy. I am psyched to have the opportunity to study in Rome next semester and will definitely be blogging from abroad!