Volunteer Research
This semester, because I don't have labs as co-requisites for my classes, I decided to start volunteering in a medical research lab on campus. I decided that I wanted to conduct research in gastroenterology because I have never really had any experience in this field and I thought that it would be fun to try something new. This particular field interests me because its clinical practice involves procedures, but not necessarily surgery, which is something that I want to consider when choosing a specialty down the road.
Once I decided that this was the department for me, I went online in search of a mentor. Most undergraduate research is overseen by the Office of Biomedical Research Education and Training (BRET). I found a list of GI doctors with labs in the Vanderbilt Medical Center and them emailed Dr. Richard Peek, whose work interested me most. I got extremely lucky, as Dr. Peek responded promptly and was more than happy to welcome me to his team.
I have been working in the lab for about a month.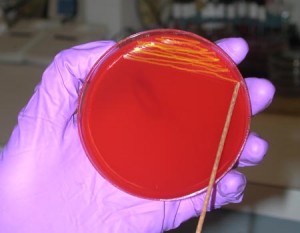 The lab as a whole focuses on the study of H. pylori, which is a bacteria thought to cause GI cancer. All of the post-docs, lab technicians and PhD candidates are leading different experiments relating to the bacteria. In addition to Dr. Peek, I have another mentor- Dr. Peek's lab manager. I assist her with her particular set of tests. So far, without getting into too much science detail, I have been isolating DNA fragments and growing bacterial plates on agar plates. I get to keep my own lab notebook and I run independent tests that supplement those of my mentors.
I have really enjoyed my time at the lab. I am also really excited to see what we can discover. Who knows, maybe I'll witness the discovery of the cure to cancer!