Ultimate Frisbee Tournament
This past weekend I went with the Women's Club Ultimate Frisbee team to Tupelo, Mississippi for an ultimate frisbee tournament. I had never been to Mississippi before, plus it was my first tournament ever!
I am not going to lie here-I'm not the most athletic. I played park district soccer and basketball through 8th grade, but I was never very good. In high school, the only "sport" I did was marching band, which is pretty physically challenging if you're carrying a bass drum, but not for flute players like me. My roommate, Sophie, played ultimate frisbee in high school and introduced me to the sport last year. I loved it and decided that I was going to become athletic, so here I am on the club team!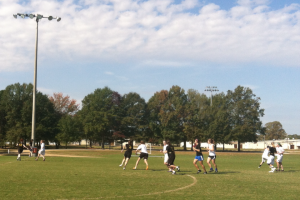 Ole Miss hosted the tournament and it lasted two days. We played four games on Saturday and three on Sunday, and the weather was absolutely gorgeous on both days. The entire tournament was so much fun and it was great getting to know the girls on the team better and learning how to get better at ultimate. Few high schools have ultimate frisbee teams, which is nice because most girls start playing for the first time in college, so I was not alone as a newbie. All of the teams were really nice and showed great sportsmanship too. It was really cool to see how much the upperclassmen loved the sport and how dedicated they were. Since I've never really been in the sports world, I was also introduced to all of the injuries that can happen. Luckily, nothing happened to me, but I probably haven't been playing long enough to get injured. Needless to say, our team kept the trainers busy. I can barely move around my dorm after seven games, but it was all definitely worth it. We got third place in the entire tournament too!
Even though my feet are covered in blisters and it's painful for me to walk, I still loved the entire weekend and want to learn more so that I can get better at ultimate frisbee.