Rand Reopens!
This week is an exciting one here on campus. Don't get me wrong, every week is exciting here, but week is extra special because we are celebrating the grand re-opening of Rand Hall and the Sarratt Student Center.
Toward the end of last year, along with the renovations of Kissam Hall, Vanderbilt announced that it would be renovating our center of campus, essentially our student union. The first phase of renovations began last March and all through the summer, construction crews worked to get the space open for the start of school. They were able to get most of the dining and office space ready for the start of school in August, but this week, the rest of the dining facilities and the majority of new student space.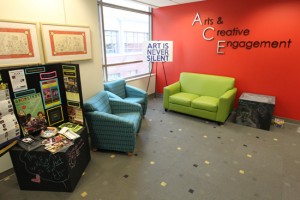 The full new space includes a multicultural space, rehearsal space and the Arts and Creative Engagement wing. In terms of dining, the old Rand dining is now connected to Chef James Bistro. This week, a new brick oven pizza kitchen and salad toss opened in Rand lounge. They are both open late, which addresses the major concern of eating a late dinner on campus. Upstairs, there is a student lounge and tons of meeting space and a large lounge designed to host student organization meetings and events.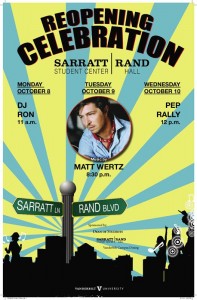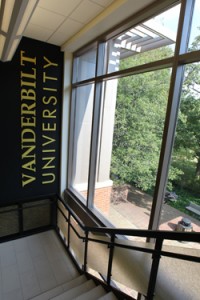 The campus-wide celebration started yesterday and will continue through tomorrow. Yesterday, DJ Ron performed at lunchtime. Tonight, Matt Wertz is performing, and tomorrow the celebration concludes with a pep rally at noon. In addition, there are smaller receptions and tours for various student groups, that seek to ensure that everybody loves and utilizes the new space.
I can't wait to use the new space. It will be so nice to have more places to study outside of the library, and I cannot wait to take advantage of the 24/7 access to the building. With more dining options, study and meeting space, and tons of technological improvements, I know that Sarratt and Rand will truly emerge as the center of student life.