Fall Festivities
Friday night my friends and I planned on going to a corn maze, but unfortunately it was closed because of bad weather. So instead we had a fun night of dinner and painting pumpkins!
My friends and I are huge Taylor Swift fans so some of us dressed up like hipsters for dinner, because of the line in the song "22", "It feels like a perfect night to dress up like hipsters…". We also listened to her new album the entire night while driving from place to place. I have always heard great things about the food at the Pharmacy, a trendy restaurant in East Nashville. My family even tried to go over Parents Weekend, but the wait was too long, so I was ecstatic to finally get a chance to try out their burgers. I tried the Mexican City burger, and it was amazing! I was a little skeptical of black beans and guacamole on a burger, but it turned out great.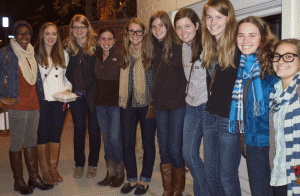 Next, we went to Lowe's and Wal-Mart to pick out pumpkins to paint and we bought a bunch of different colors. Before we headed back to Vandy, we went to Fido's for some late night coffee and popsicles at Hot 'N Cold next door. Fido's is a great place for dinner, coffee, and I've even gone there for breakfast a couple times. It's located in Hillsboro Village, which is much closer to the Commons than where I live now. It was nice to go there since I haven't eaten there much this year. Then we came back to campus to paint our pumpkins while watching Mean Girls. I used to carve pumpkins every year when I was at home, but last year I didn't even buy one. It was really fun to get into the Halloween spirit with pumpkin painting.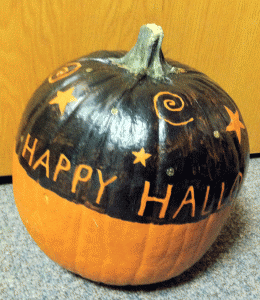 I had so much fun going out to dinner and painting pumpkins. We all talked about how much we enjoyed celebrating fall and that we want to do it again, so stay tuned for a winter themed night!