Free ice cream? Count me in!
This morning I was feeling stressed about my biomechanics exam that was happening later that day, and I was worried that I wouldn't have time to go over everything that I needed to, as I am quite the crammer. However, my day instantly got 100x better when my friend texted me to let me know about free ice cream on Alumni Lawn! Luckily, one of my classes ended early so I had just enough time to run over and grab some ice cream before heading back to bio.
I was pleasantly surprised when I got there to find out that it was free Jeni's ice cream. Jeni's is known for their non-conventional, yet strangely delicious flavors. They have a real store in East Nashville that I visited with my family last year, along with a small selection featured at Hot 'N Cold, which is within walking distance of campus. I remember last year staring at the flavors list for at least ten minutes before even coming close to deciding what I wanted. Their flavors range from Brambleberry Crisp to Ugandan Vanilla Bean to Askinosie Dark Milk Chocolate. Today, I got Brown Butter Almond Brittle and it did not disappoint!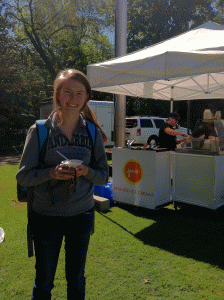 I also noticed a nice sign by the line of people waiting for ice cream that advertised that the event was sponsored by the Student Alumni Board. One of the great things about Vanderbilt is the vibrant student life and the number of student organizations that are constantly trying to organize free events or food for students. This is the third free ice cream event I've seen this year, and we've only been in school for a month! I've also gotten plenty of free t-shirts at various events and sometimes, I'm lucky enough to find some free food.
Needless to say, it definitely brightened my day to get some free ice cream, especially since I had a test today. With such a busy campus as Vanderbilt, I can't wait to see what other free events I might find or hear about in the future!