We're All In This Together
On Friday, the upperclassmen ventured out of Main Campus, ready and eager to unite for the Common(s) because of Move-In!  We each received half sheets of rules, which taught us practical information like, "Hangovers aren't fun at 6:15 A.M." which was our appallingly early check-in time, and gave us pictured instructions such as, "Squat to pick up boxes," which almost inspired my friends and me to create a goofy how-to video.  After a few motivational speeches from the Heads of Houses, we stampeded the Commons Centers to pick up our awesome Move Crew shirts.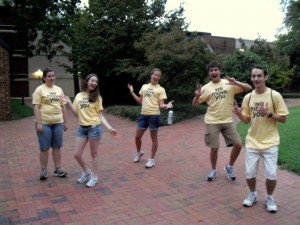 Bright and early the next morning, my Mayfam chatted all the way to the Commons Center, where over 1000 volunteers fueled ourselves on donuts, chicken and sausage biscuits, fruit, and juices.  We sprinted (okay, maybe it was just me who ran…) to our respective houses, and the whole place was abuzz with excitement for the first cars.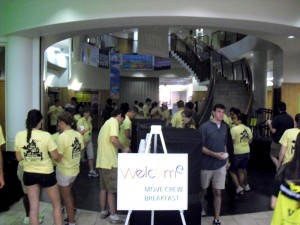 My favorite part about Move Crew was watching the faces of the incoming students when they heard the roar of cheers and witnessed the pumping fists of enthusiasm.  My headline for them would probably be, "JAWLINES FALL TO NEW LOWS".  After a moment of incredulity, they would come to their senses and roll down their windows after pulling up to the curb.  If they were assaulted by a tide of yellow shirts, we did our job.  Furthermore, a firstling and his or her parents were not allowed to touch or carry anything to the room and we tried to provide maximum efficiency and ease for the overwhelmed newcomers.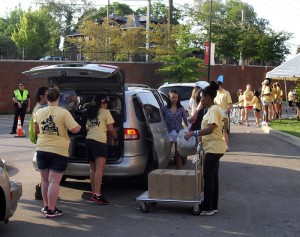 I loved cheering for the exiting parents and siblings who were making their way over to the Long-Term Parking.  With shouts of "Yay Vanderbilt!" and "Dads rock!" and "Moms are the best!" we would often get a fist pump in the air or a honk from the proud Vandy parents. As the day progressed, I became impressed with three sets of people: the policemen, who got their month's dosage of exercise, biking back and forth to show the cars where to pull up; the administration, who were all so encouraging to the Move Crew to keep up the good work and so willing to help anyone who asked; and the other members of the Move Crew, who, although they carried hundreds of shoe boxes, microwaves, and duffel bags, and waited in long caddy lines for the elevator, they were still unfailingly enthused by each wave of new cars.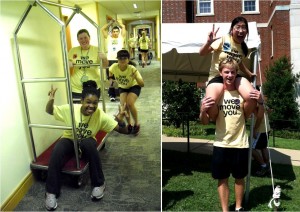 Well, this is the end of the summer blogging… and the start of the new semester's!  Though classes start on Wednesday, my schedule is already packed with a cello to practice, books to buy, and friends to see.  This year is going to be amazing!
End note: Kudos to you if you picked up the theme for the titles of my posts this summer…Disney songs!  You get a virtual fist bump.