It's almost time!
The few days before school begins are always a little crazy–on Saturday I moved in a whole lot of first years (and was a firsthand witness to Ann's great enthusiasm). The rest of the day was spent recovering and catching up with some friends and then trekking back to Commons for the Protestant worship service Vanderbilt hosts.
One of the great things about first years moving in is that there is a lot of extra free food lying around from their various events on Commons. For instance, after their dinner on Saturday, there were coolers filled with ice cream outside on Commons. Since these were all extra, one of my Chaffinmates and I may have collected some for our Chaffin…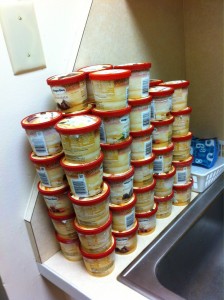 On Sunday I was so blessed to go back to Green Hills Church (fellow blogger Ashlin goes there too!). I always miss it when I'm back home–and I'm excited because this semester Green Hills will be moving from meeting in Cabana to an actual building! I'll probably be sharing more about that excitement in the future.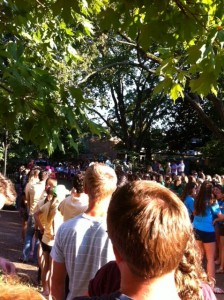 Sunday evening I got to participate in the age old tradition of Founder's Walk! I nearly lost my voice doing some quality cheering for the first years as they paraded through campus. Monday consisted of a workday at the BCM, a target and frozen custard run with fellow blogger Caitlyn, and then watching the Hunger Games on the Commons lawn.
School starts tomorrow (eek!) and I'm already exhausted. Time to go pick out my outfit and pack my backpack for classes!