The Blair Necessities
Fun advice about Blair, your home away from home (Commons) away from home (parent's house), with a few recommendations by some of your future colleagues.
Need-to-Know #1 from cellist Alex Krew: "Freshmen fit in the cello/bass lockers reeeeeaaaaaal nicely."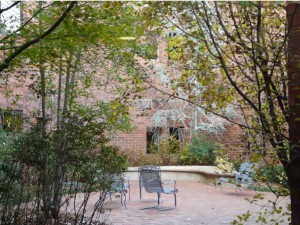 That is true, but the statement is not limited to only firstlings.  How do I know?  All I'll say is that it is possible to unlock yourself from the inside.*
Need-to-Know #2
The place is a labyrinth.  There are five staircases, of which only two reach the third floor, one basement for tornado emergencies, and plenty of sweet spots for hiding if your new posse of friends plays a round of Sardines.  On the second floor, there is a one-way door which leads to an outdoor deck; however, you may only exit the deck through the other one-way door around the corner.  But do not fear; you will navigate through the zigzag layout of the building in no time.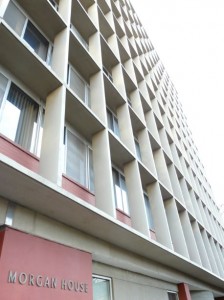 Need-to-Know #3 from clarinetist Zach Manzi: "When it comes to Quiznos, pace yourself."
Affirmative.  There are three nearby eateries to Blair.  Suzie's is the café in the third floor lounge, fondly dubbed as the Blounge, but if you aren't hankering for cold foods and pastries, Quiznos is just around the corner with a variety of sandwiches, bread bowls, and salads.  If you are craving Munchie Mart food, head over to the Common Grounds in the basement of Morgan House.
Need-to-Know #4
Though I shouldn't be divulging this information, I will graciously bestow upon you a very important pointer: sign up for a practice room as soon as possible.  There are peak hours during the week when you will search for an empty room to no avail, so reserve one while you can!  There is also an unwritten rule: Please show up to your room at your assigned time, because if you are not there within fifteen minutes of your start time, the room will be pounced upon.  You are welcome.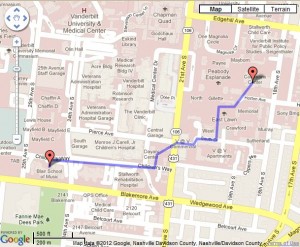 Need-to-Know #5 from vocalist Julia Taylor: "The walk to and from Blair DEFINITELY counts as your day's exercise…. right?"
Right.  The walk from Commons is, according to Google Pedometer, 0.659 miles which means that if you walk only one time to Blair at the beginning of the day and head back to your house at the end, you'd be walking a little more than a mile.  Congratulations, you can work off your Quiznos easily.
Need-to-Know #6
Get to know the Blair culture.  There are many great professors from whom you'll respect and learn, upper classmen who will be anxious to answer any of your questions, and peers who are eager to become lifelong friends.  Get excited: only eleven days until move-in!
*This first tip is mentioned in jest.  You will never be cooped up in locker unless it is of your own volition.