Commencement: The Observer's Perspective
It's the culmination of four years of blood, sweat, and tears. The moment your entire college career comes to. The few seconds in which you receive that much desired diploma and are congratulated by an entire university. It is thankfully something I still have two years before I participate in. It is something I had the pleasure of observing this year. It is…Vanderbilt Commencement.
Okay, so maybe that was a little dramatic and I would certainly argue that your college career amounts to way more than a piece of paper, but Commencement is definitely a time-honored tradition at Vanderbilt (and most universities) and so I was excited to see it in person this year.
The main ceremonies take place on Alumni Lawn, where every available space not directly blocked by a tree is covered by a chair. The lawn fills up fast–fellow blogger Ashlin and I arrived only a few minutes before ceremonies started at 9:00am and ended up sitting rather far back with another one of our friends. But we could still hear the names being called and we had a pretty good view of the screen which showed close-ups of all that was happening, so it worked out fine.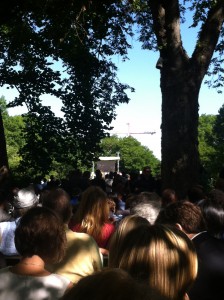 Something I truly admired about Vanderbilt Commencement was how on-time everything was. It was scheduled to run from 9am-noon and I thought there was no way everyone's names would be called in those three hours. But no–Vanderbilt started the procession in at 9:00am on the dot, and everything flowed smoothly, ending at precisely at noon with the graduates celebrating by throwing their caps in the air.
Afterwards, there was a strawberries and champagne reception with what was literally the most strawberries I have ever seen in one place in my young life. Ashlin and I tested many of these strawberries, and I report back to you reader, that every single one we had was delicious.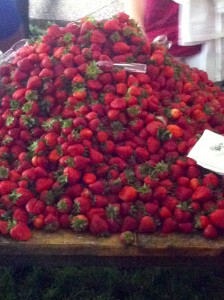 This reception was held outdoors under one of the many marvelous white tents and provided a lovely time for us to congratulate friends who had graduated. This year's senior class held a lot of good friends, and I am so sad to see them go–but I'm glad I was able to see them off to the great and grand things that await them in the future!