Rites of Spring 2012
This year marks my second year of going to Rites of Spring at Vanderbilt. Even though I didn't know any of the artists coming super well, I love the atmosphere of Rites and the awesome meal plan food options (like The Grilled Cheeserie). Here's a summary of my experience that weekend:
Thursday: A little known but awesome event that happens the Thursday night before every Rites is the Silent Disco. Essentially, there's a tent with lots of cool lights outside and you go in and get headphones. Then you dance to the music being DJ-ed over the headphones (there are two channels to choose from). From the outside, it looks like everyone's dancing in silence and it's really quite fun.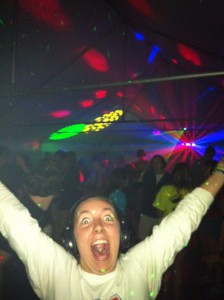 Friday: Fellow blogger Ashlin and I headed over around dinner time and exchanged our meal plan for tickets which we used to get some pizza that evening. We decided on a strategy to get enough tickets to buy shirts the next day using only our meals and flex meals. Then we met up with some friends to listen to Gloriana. It looked like it was going to rain (as it inevitably does every year), so we left to go get rain jackets. One of the nice parts about Rites is you get a wristband, so you can come and go as you please.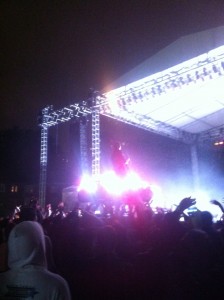 We then came back for Fitz and the Tantrums (who were fantastic) and stayed through the rain and cold until Mutemath came on. Mutemath was absolutely amazing–a few notable moments included their lead singer crowd surfing on some light-up spaceship-meets-air-mattress contraption and their drummer also brought drums into the crowd who held them up while he played them. It was epic and despite being freezing cold and slightly wet, it was a fantastic show.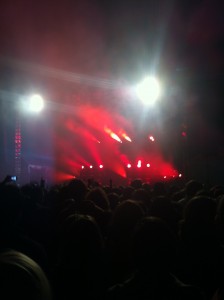 Saturday: Ashlin and I came for Friendly Savages and to use our lunch meal to get more tickets and then left again to sneak in a little more studying. We headed back for dinner and strategized to make the most of our meal plan by splitting a Chick-Fil-A sandwich, kettle corn, and grilled cheese. Yum. We listened to Reptar while we ate, then started a crazy dance party with some friends to burn off some calories to the DJ-ing of Wick-It the Instigator. Afterwards was Sleigh Bells. As you can kind of tell from the number of speakers in the picture, they were incredibly loud, so we headed out and then came back for Wiz Khalifa. We stayed for most of his set, then called it a night.
Overall, Rites weekend is always an awesome time to listen to some great music with great friends, and this year's Rites certainly met those expectations!