Pancake Pantry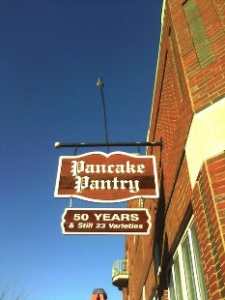 Even though my first class wasn't until 9:10, I woke up at 6 am yesterday. No, not for some last minute studying, but for breakfast at Pancake Pantry!
I realized the other day that I had only been to Pancake Pantry once, after living in Nashville for almost two years. That was not acceptable. I quickly suggested to my friends that we go soon and they were all on board.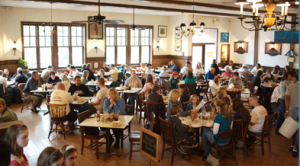 Since Pancake Pantry is so popular and famous, you have to go pretty early to avoid the lines (don't even try to go on a Sunday morning). This worked out pretty well since my friend Jason had class at 8:10 and we had to finish eating by then. There were only about 8 other groups there that early (one of them being a group of AOIIs) so we were seated right away. After much deliberation, I decided on the Swiss Chocolate Chip Pancakes while my other friends ordered the Sweet Potato Pancakes. Within minutes we were devouring quite possibly the greatest pancakes ever created. Of course my eyes were bigger than my stomach and I had lots of pancakes left over, but it was definitely worth it.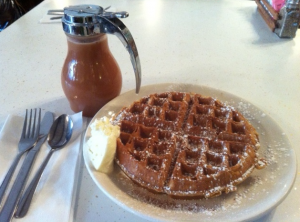 After sitting there stuffed, letting our food digest, we finally had to leave so we could get back to campus in time (it's only a 5 minute walk but for some reason took us about 15 yesterday). I still had an hour before Bio lab so I took my time getting ready and reviewed the procedure for lab that day. Since my Thursdays are usually so busy with both Bio and Orgo labs (not the best scheduling on my part), Pancake Pantry was the perfect start to a challenging day.