Mayfield-Cooked Easter Dinner
Let me start this post by saying I'm a terrible cook. If food requires more than a few minutes in the microwave, I usually consider it out of my league. However, under the careful direction of my friend Nikki, I helped cook a three-course Easter dinner last night!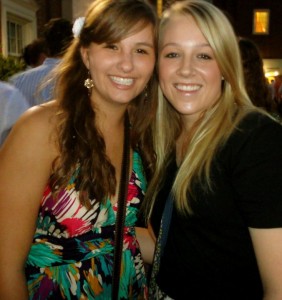 Nikki is one of my best friends who lived on my hall in Sutherland last year, and now lives in the Mayfield next door. Unlike my housemates, their Mayfield has actually used their oven and usually keeps their fridge well stocked. On Friday afternoon, Nikki made a trip to the grocery store and the whole process began. By that night, the carrot cake was frosted and ready (and so delicious!).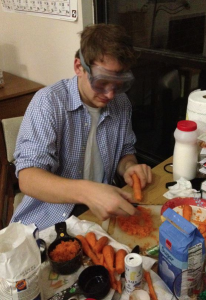 I started helping on Saturday by chopping shallots (which I had never heard of before), cutting and toasting the French bread, and helping mix the insides of the twice-baked potatoes. Nikki was preparing baked brie, goat cheese pastries, and fruit tarts, while Roo made his famous deviled eggs, and Will helped bake the ham. During the whole afternoon, we blasted the One Direction station on Pandora. Around 7:30 pm, most of our friends had finished all their activities for the day and joined us in time to eat!
Last night was seriously one of my favorite nights of college, because I got to catch up with all my friends and feel really cool and grown-up by cooking an actual meal that we could all enjoy. Also, carrot cake leftovers this morning were pretty awesome.