Guest Blog: International Student, Rachael Grenfell-Dexter
I was in a maze my whole senior year of high school, trying to navigate my way through the college process. Frantically writing supplement essays, taking SAT and AP tests, asking my teachers for recommendations, I was quite rightly overwhelmed. When I finished submitting my applications, I wanted someone to give me some sort of certificate or diploma, just for making it through. But the 'college process' had just begun! It's hard enough making a decision about which college you want to attend, but when you're half way around the world and have never visited any of them, it feels downright impossible.
As the deadlines approached, I read everything I could about all the colleges I was considering. The necessity for a final choice loomed over my head. What if the college I picked wasn't the right fit for me? I never visited any of the campuses and my judgment limited itself to every piece of information I could find on the internet–I think I even did some Google earth searches and gave myself a virtual tour. Yes, I was that kid. The more I researched, the more convinced I was that Vanderbilt was the right choice. Vanderbilt had everything that I wanted: a gorgeous campus with great weather (all four seasons!); fantastic sports teams to watch (Go Dores!); rigorous and prestigious academics; a fantastic Southern music-vibe city (we're neighbors to Music Row – knowing some timeless tunes were created next door is a surreal feeling.); and a great social environment (need I say more?).
But, ironically, the reason I knew it would be the "perfect fit" for me was because I knew it would be the "perfect fit" for others. I wanted to know that I was coming to a campus with people who were different from me. There is a lot you can learn in a classroom, but I wanted to learn from my peers as well. At Vanderbilt, I constantly find myself being challenged in new and different ways, and I have grown so much because of it. Lots of schools take up the mantra "work hard, play hard", but I think Vanderbilt takes that to a whole new level. From my experience thus far, I can say that this campus resounds to this phrase: "work hard, live hard." And when I say "hard", I mean we live it to the fullest.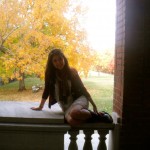 By: Rachael Grenfell-Dexter
Peabody College
Human Organization and Development & Economics, Class of 2015
Nampula, Mozambique