Facing Empty Spaces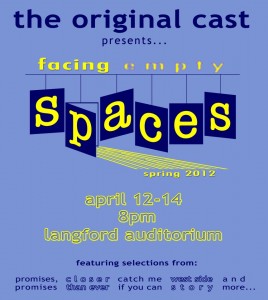 In addition to attending The Liar (and organizing the talkback!) last weekend, I also saw the latest Original Cast show!
Original Cast is a musical revue troupe that puts on a performance every semester. In the past, they focused on a few musicals and used songs and plot from only those. This year though, they started writing their own script and, especially with this last performance, emphasizing the music.
This year's show was called Facing Empty Spaces and the set consisted of four sets of doors on wheels. They would constantly rotate or change positions to signify different locations, or different opportunities. All the characters lived in the same apartment building in New York City, so the show followed all of their interactions. The cast consisted of 15 students who all had amazing voices! Each character had at least one song that focused on their voice, and there were a few big group numbers too. Some of my favorite songs they performed were Tonight from West Side Story, Say a Little Prayer from Promises, Promises, and Doctor's Orders from Catch Me If You Can.
Original Cast is so impressive because it's completely student-run. Members of the troupe wrote the dialogue, directed the scenes, choreographed the dances, ran the lights and took care of all tech-related jobs. My friend Seth is in Cast and I gushed to him after the performance about how great it was. They basically took a random group of musicals and combined them, which is perfect for the theatre nerd in me.