The Big Question: Why Vanderbilt?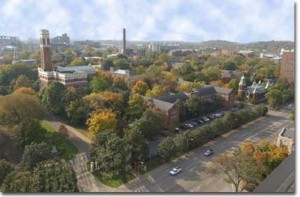 Why Vanderbilt?
I think there is only so much to be learned about a school from a hefty 214 Colleges in the United States book that most students purchase in preparation for the Big Decision, AKA choosing the place you will be spending the next four years of your life after high school. Vanderbilt University boasts an impressive résumé on paper, but what books and black-and-white print fail to embody is the pulsing life contained within the Vanderbilt community and the many opportunities to do everything and anything poking out of every nook and cranny on campus.
During the early stages of my pre-college admissions process, Vanderbilt University was little known to a small-town girl who grew up in an even smaller suburb of Atlanta, GA. "Sense of community" and "Opportunity" were two phrases that immediately came to mind whenever anyone asked me what I was looking for in a college. On a whim, my father and I ventured up to the bustling city of Nashville, TN and the course of my next four years of life was forever changed.
Once on campus, my father and I were immediately immersed in an infectious culture of southern-flair, beautiful scenery and academic excellence all tied together with a hometown feel. From the compassionate people to the seven hospitals right across the street (perfect for volunteering and pre-med opportunities), everything about Vanderbilt made it place I wanted to be.
Now a proud member of the Class of 2015, I am still head-over-heels in love with my decision. Nashville and Vanderbilt are the perfect combination of southern culture and rigorous academics, but above all, the collective experiences from each inspires self-growth and lessons to outlast a lifetime.
Forever a 'Dore, forever Vanderbilt.